DOWN TO EARTH ON THE 17TH STOREY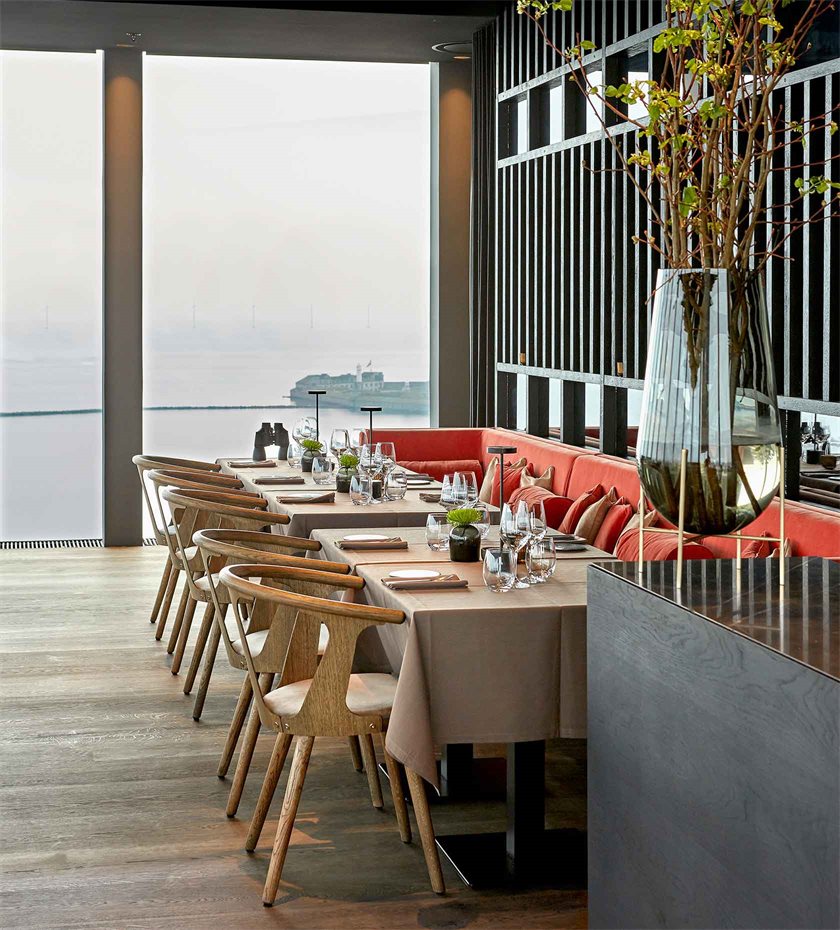 "Hva Drikker Mølr" (What's Mølr drinking) hangs above the bar, which most locals probably remember was the graffiti slogan sprayed on the building during its earlier rundown incarnation – so high up that people wondered how it had been possible to write it. Today the old silo is almost unrecognisable with its futuristic exterior and interior apartments. The view of the city makes you feel godlike, and if you turn to look out at the sea, construction sites and old industrial buildings, new possibilities open up.
Energetic developers working with architects from Cobe, have transformed the old silo building which had been threatened with destruction, into an impressive 18-storey building. At the top of this architectural masterpiece is Silo, a 900 m2 restaurant, which can boast of having the best view in the city and the stunning view also appears to have influenced the menu. The sea is represented by fish and shellfish, a feeling for the old Copenhagen in the honest selections and the exotic details like Harissa and date purée elevate the dishes and are welcomes the city's new residents. The food is inspired by classic bistro with delicate dishes, which are tasty – no miniature portions served here.
Grand but down to earth
It was important for the developer, architect and restaurant owner that this Copenhagen icon was opened up and Restaurant Silo was an accessible experience, because even though the building and location easily could make the prices on the menu sky-high, they are quite reasonable. You can visit on any weekday evening in casual clothes and enjoy a single course while sitting in one of the soft sofas or at a high stool at the bar.
The exclusive interior design has mellow tones, which are easy on the eye, the atmosphere and lights are warm and the furniture is very inviting. You get a great feeling from the place. The interior design includes grainy wooden chairs, prickly flowers on the table, the soft velour sofas and thread in the strong tablecloth, all of which turns a visit to Silo into a sensory experience for the body and mind. Each table has its own pair of binoculars, so that sitting on the 17th storey, guests can keep a close eye on the city should they get the urge. The view is mesmerising and you could easily sit for hours watching the seaplane fly past at eye level or the city lights from the hundreds of homes.