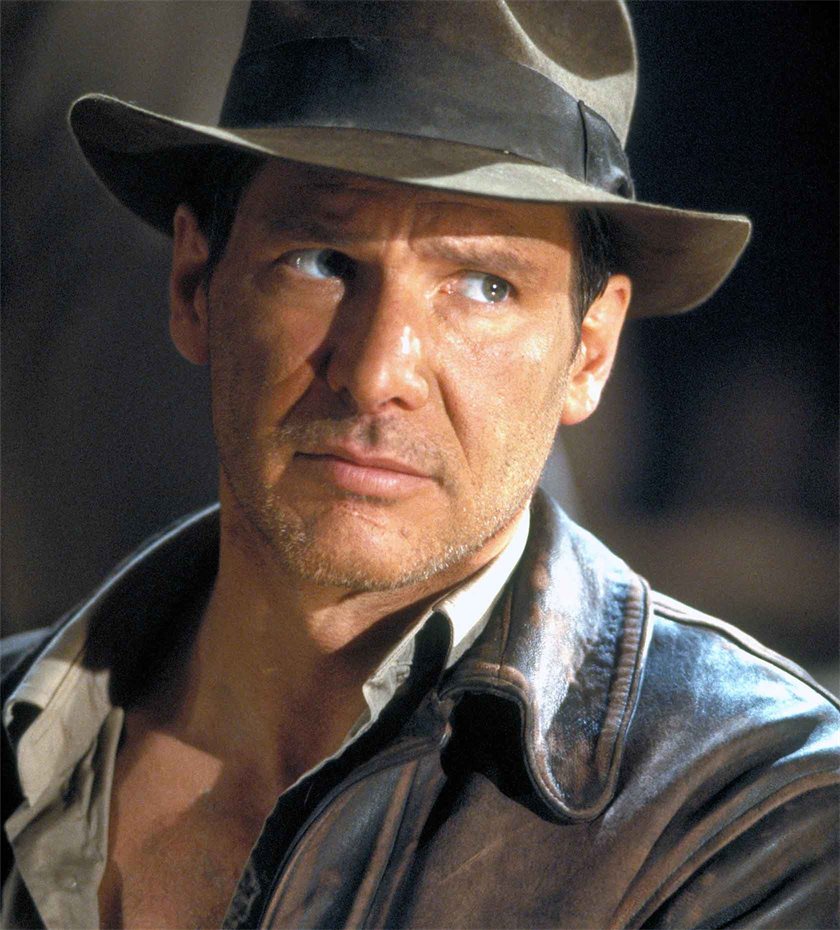 Harrison Ford
Classic film hero
The carpenter with acting in his blood
He grew up in Chicago and came from a mixed background – his father came from a German and Irish Catholic family, his mother came from Russian-Jewish family – both his parents were former actors and so it was not a huge surprise when the 22-year old Ford moved to Los Angeles to pursue the dream and follow in his parents' footsteps. In the City of Angels, he was quickly hired for walk-on parts and bit parts but his fear that he would be typecast in minor roles, caused him to quit and he started to supplement his film ambitions by learning to be a carpenter.
After a small role in American Graffiti (1973), Ford was initially ruled out of a role in George Lucas' new space adventure film about the fatherless Luke Skywalker who gives new hope to the rebels in their right against the evil Emperor. The director would not reuse cast for another film, something his colleague Coppola had a habit of doing.
But he was forced to anyway when he asked Ford, who was now 35, to sit in on the casting and help the actors who were actually being considered for parts to read their lines by reading the lines of Han Solo. Luckily, George Lucas was persuaded by none other than his friend and colleague Steven Spielberg, who was certain that the carpenter was a better choice for the nonchalant and wilful space smuggler than Kurt Russell or Christopher Walken, who were both candidates for the role. Even though the role of Han Solo would come to haunt Harrison Ford, it was perhaps the most important of his career, because the film's surprising success suddenly made him a star and in 1979, he played an American bomber pilot in the romance Hanover Street.
Alternative action hero
In 1981, Spielberg and Lucas collaborated on the adventure film Indiana Jones, who stops the Nazis in their hunt for a divine weapon. Tom Selleck, who was the first choice for the part had to turn it down because he was under contract with the TV series Magnum P.I. Once again, Spielberg insisted that Ford should wear the hat and travel all over the world in the hunt for disappeared treasure. As everyone knows, Star Wars and Indiana Jones became a whole series of films, but Ford did not always share the filmgoing public's enthusiasm for the role.
By the time the Star Wars film 'Return of The Jedi' was being made in 1983, there was discussions about killing off the Han Solo character because Ford was tired of the role. But Ford would have to wait until 2015, when Han Solo was finally killed off in the 2015 sequel 'The Force Awakens'. Despite his misgivings, Harrison Ford made a lot of money from the role, and it is rumoured he received USD 10–20 million, more than all of the other actors on the poster put together.
During the 80s and 90s, he played other notable action heroes. During the period, when the genre was dominated by main characters with big weapons, big muscles or both, Ford stood apart with his more resourceful roles, e.g. as the surgeon on the run from the law in The Fugitive (1993) and the flying president in Air Force One (1997). The period following the turn of the millennium was not his most noteworthy period in terms of acting, but it certainly was personally. In 2002, shortly after his divorce, he met the actress Calista Flockhart, best known for her role as the neurotic Ally McBeal and they quickly became a couple. Together they have an adopted son Liam, and they married in 2010.
Charity on wings
Harrison Ford doesn't just like his career to reach the sky, he also flies planes. He started to take his pilot licence in the 1960s but at the time could not afford to complete his training, and it would take another 30 years before he could make the dream a reality. Today he owns both planes and helicopters. He is on the board of Young Eagles, a charity whose aim is to give children opportunity to experience flight, and he has become an honorary member of Wings of Hope, whose activities include providing free air transport for patients and relatives who are far from any doctor. Ford has been a supporter of a free Tibet for many years and he is said to be a persona non grata in China, which occupies Tibet. In 1995, he pleaded for American support for the Dalai Lama and 12 years later, he narrated the documentary film 'Dalai Lama Renaissance'. He is a confirmed Democrat and has on several occasions become involved in sensitive issues, for example, the control of private gun ownership. He is a man who thinks a lot, and on several occasions he has criticised his own industry for focussing on weapons and explosions rather than on action and good acting.
It does not appear as though Harrison Ford will ever become unfashionable –both directors and the general public still love to see him perform in front of the camera. In 2008, he once again played Indiana Jones, and although the film received a mixed reception, fans all over the world were once again overjoyed to see the icon crack his whip. The release of the new Star Wars film in 2015 and the Blade Runner sequel in 2017, means that all three of his most famous roles have been reprised in less than 10 years, and if all goes to plan, we will see a new adventure with Indiana Jones when Ford and Spielberg hopefully release the fifth film in the series in 2020.