THE SUPERMODEL who became a TV star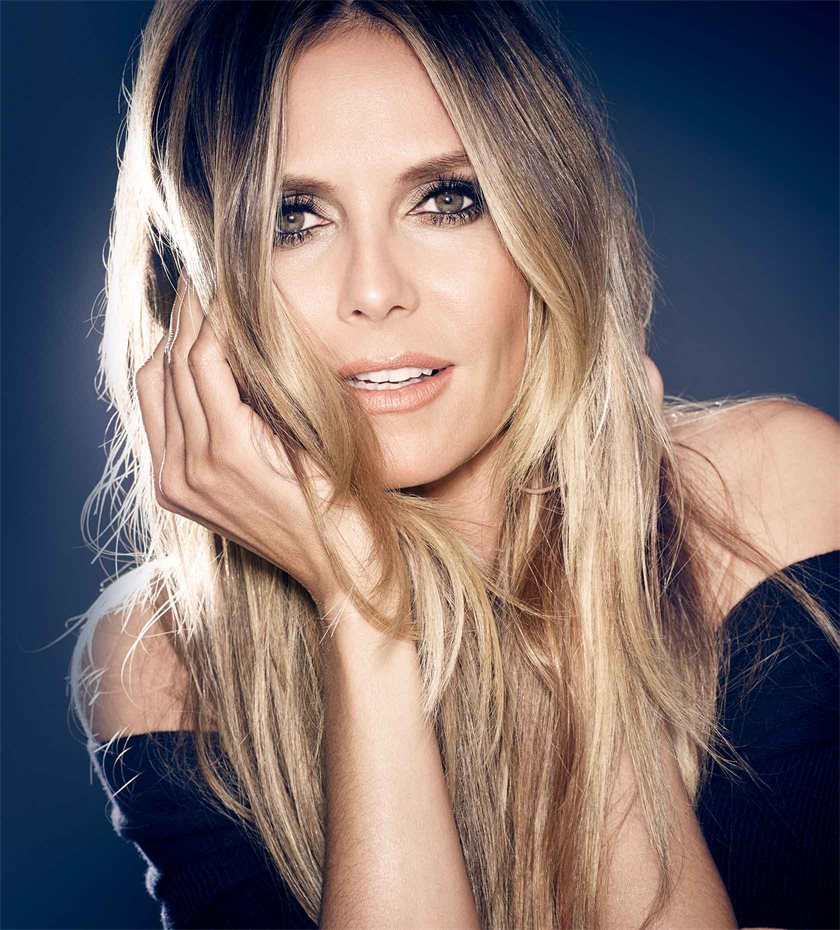 Donald Trump has demonstrated again and again that tact and fine feeling were not necessarily characteristics required to be elected as the 45th president of the USA. During his campaign to take the White House, he made statements that were heavily criticised by women. In an interview in the New York Times, he tried to smooth things over: "I think women are fantastic" he said and admitted that he had perhaps gone too far. But in the same breath he said without hesitation that "Unfortunately, Heidi Klum was no longer a 10."
But a supermodel like Heidi Klum, who has been on the front pages of the world's magazines for more than 25 years, did not allow herself to be put out by Trumps insults. Less than 24 hours after the President had made his statement, she tweeted a video where she posed in a plain white T-shirt with a large "10" printed across it.
A man with a Donald Trump mask, sneaks behind her and replaces the "10" with a "9.99". The video has the hashtag #Heiditrumpstrump, which is perhaps better translated to "Heidi Socks Trump In The Eye". Unsurprisingly, in interviews after the election, Heidi Klum stated "I didn't vote for Trump".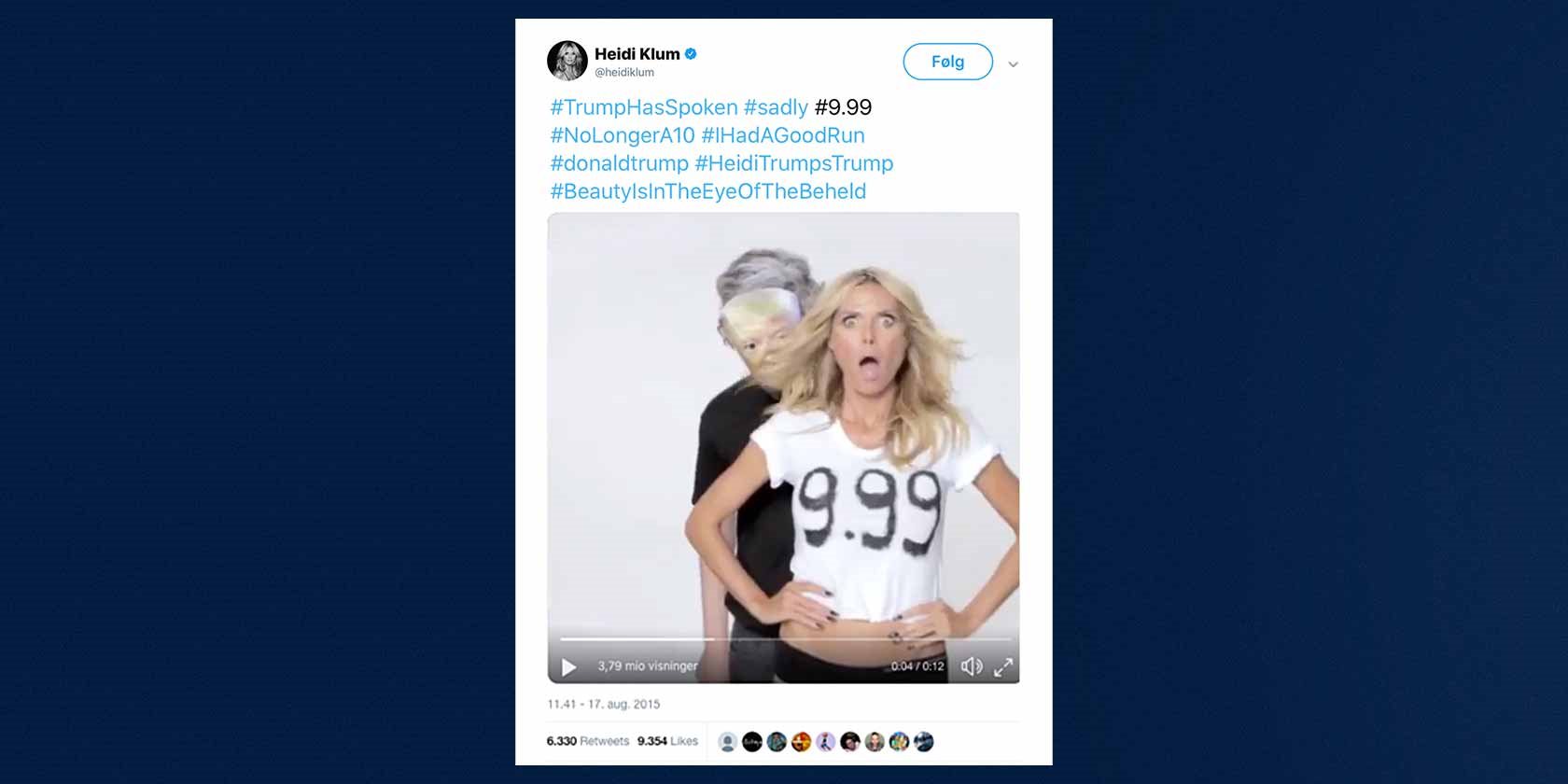 Primetime Emmy Award for Outstanding Host for a Reality or Competition Program
Heidi Klum has quite sensibly said that models should have a "best before" date. For age leaves its traces. In a normal world, giving birth to four children will have an impact as well.
Heidi Klum has taken her own words very seriously – she has put her modelling career on standby and now works as a TV host for a number of American reality TV shows like America's Got Talent (for which she is paid a seven-figure sum annually) and Project Runway, which she has hosted for 14 seasons. In her home country Germany, she has been the front figure for the TV show 'Tysklands Næste Topmodel' (Germany's Next Top Model programme with almost 2.5 million viewers) for 12 seasons.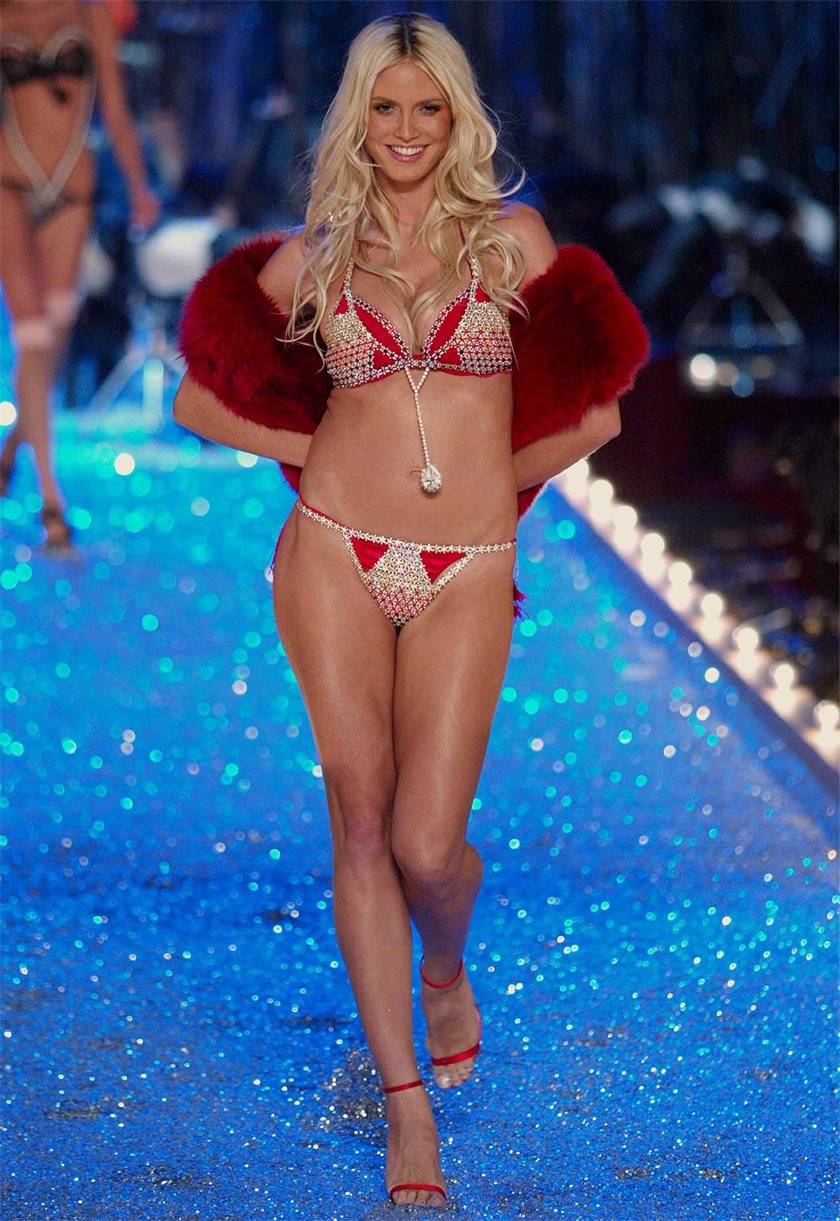 From Victoria's Secret to Lidl
It's one thing taking part in a 14-hour photoshoot for different magazines and quite another – and more profitable – to be the front figure for one of the world's major fashion brands. But that's exactly the contract that Heidi Klum signed. For more than 13 years she has graced the catwalk for Victoria's Secret, marketed as the sexiest lingerie in the world. Celebrity underwear and bras, studded with diamonds, so expensive that they cost more than the average person's income for a whole lifetime!
Even though Klum's glittering career on catwalks all over the world has made her into a supermodel and celebrity star, her work as a producer and TV host has also given her a good feeling for the world beyond the spotlight. Above all, the dreams of glamour and fashion that millions of other women aspire to all over the world.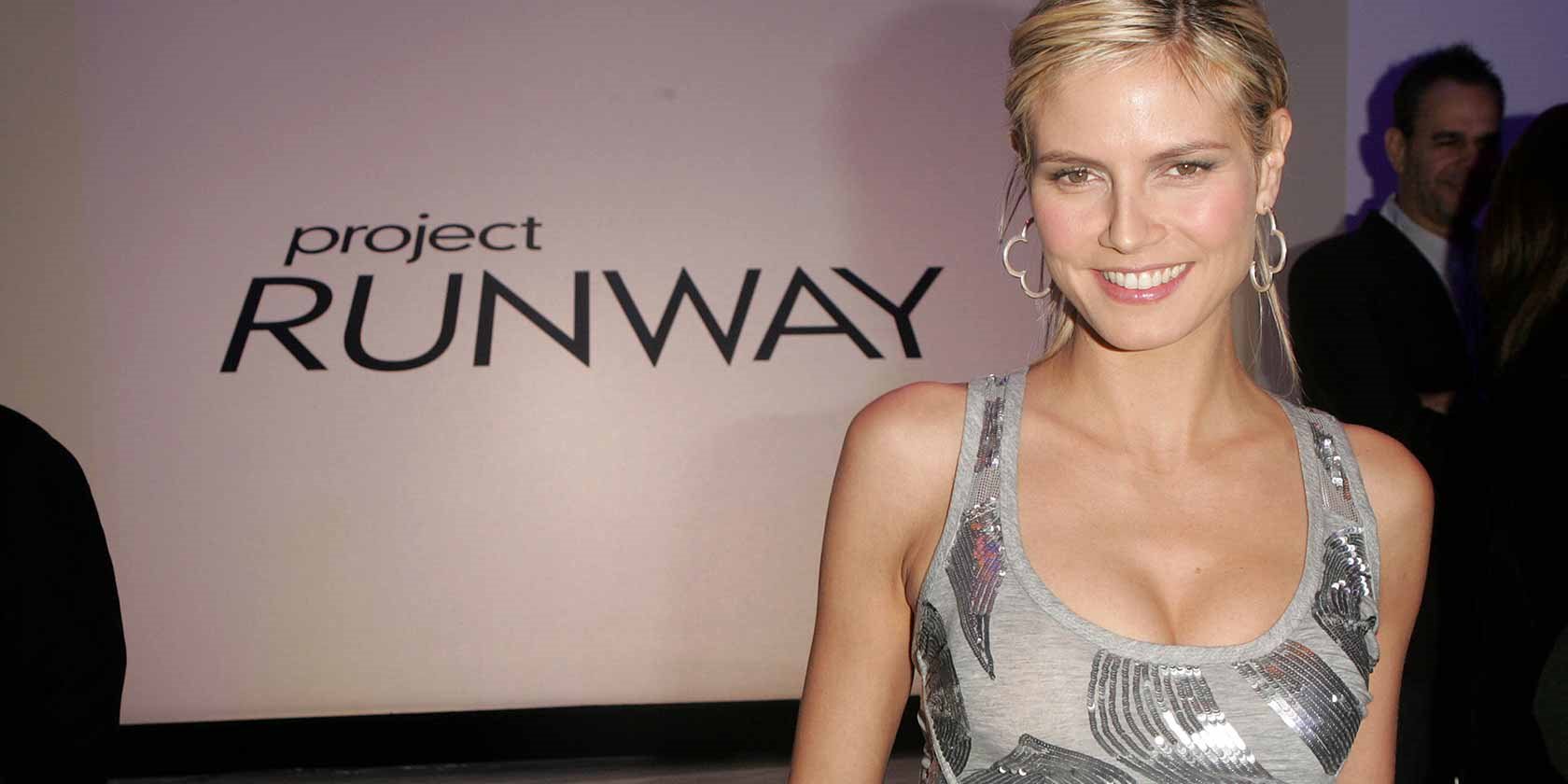 "Heidi Klum has a fine understanding of what is right for her and her business. When the fashion world had not yet accepted Klum, she turned to Sports Illustrated and Victoria's Secret with assignments that related to ordinary people's lives and dreams. She has a brilliant instinct for her public," explains Thomas Hayo, her co-judge from Germany's Next Top Model.
Today she sells her own brand of lingerie in more than 1,800 stores around the world. Klum launched her own swimsuit range in 2015, completing the circle that had started in 1998 with Sports Illustrated: Swim Suit Edition. Naturally, she is well-paid. But above all, Heidi Klum has managed to keep to her career plan and work for a number of retail chains, such as H&M and MacDonald's.
Her latest – and perhaps most surprising – business adventure was the launch of 'Esmera by Heidi Klum' in collaboration with discount giant Lidl. While the clothes are inexpensive, Klum's fee for her approval and promotion was in the millions. So no matter whether you purchase a blouse in Lidl for DKK 79.95, lingerie in Australia or a Big Mac in MacDonald's in the USA, Heidi Klum manages to spin gold from her career as a model.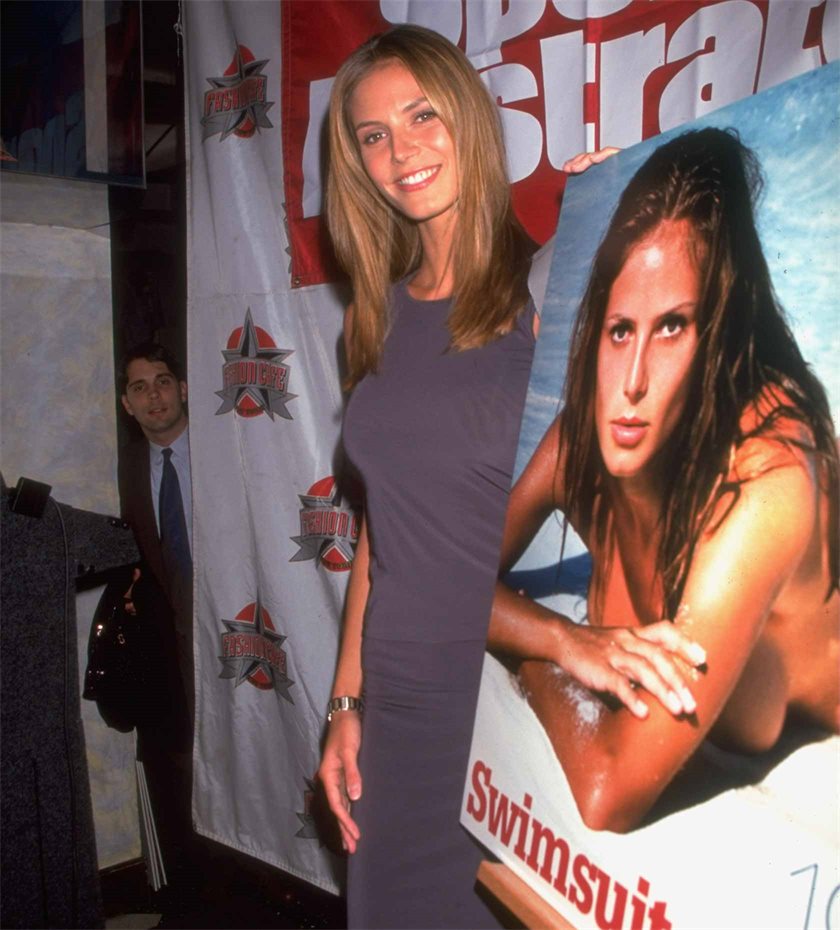 SPORTS ILLUSTRATED opened the door to the fashion industry.
Heidi Klum has enjoyed an amazing career and like many models before her, she has planned her career in minute detail, so that there was a career after the photoshoot work dried up. Clever and far-sighted. Because it is almost eight years since she was listed on American financial magazine Forbes' list of the best paid fashion models. But according to Forbes she can still take satisfaction from annual earnings in excess of USD 20 million. The magazine also claims that she has a fortune of around USD 100 million. While the fashion agencies still call Heidi Klum, the 45-year-old supermodel is now also a TV producer, reality TV star and business woman.
Not bad for a long-legged girl who was born during the Oil Crisis in 1973 in Bergisch Gladbach, close to the German town of Cologne. Even though she started her modelling career when she was 18 years old, she would first gain supermodel status in 1998. Her supermodel status was established when she appeared on the cover of Sports Illustrated Swim Suit Edition 1998. The American magazine – which normally is published with sports news every second week with a print run of 3 million – publishes a special annual edition where top models present the year's swimwear – and of course, themselves!
Many people believe that the Sports Illustrated Swimsuit Edition has literally created many supermodels. Some people have even claimed that it is impossible to achieve the status of supermodel without appearing on the front page of this special edition. Heidi Klum was in a class of her own and appeared in the Swim Suit Edition several times.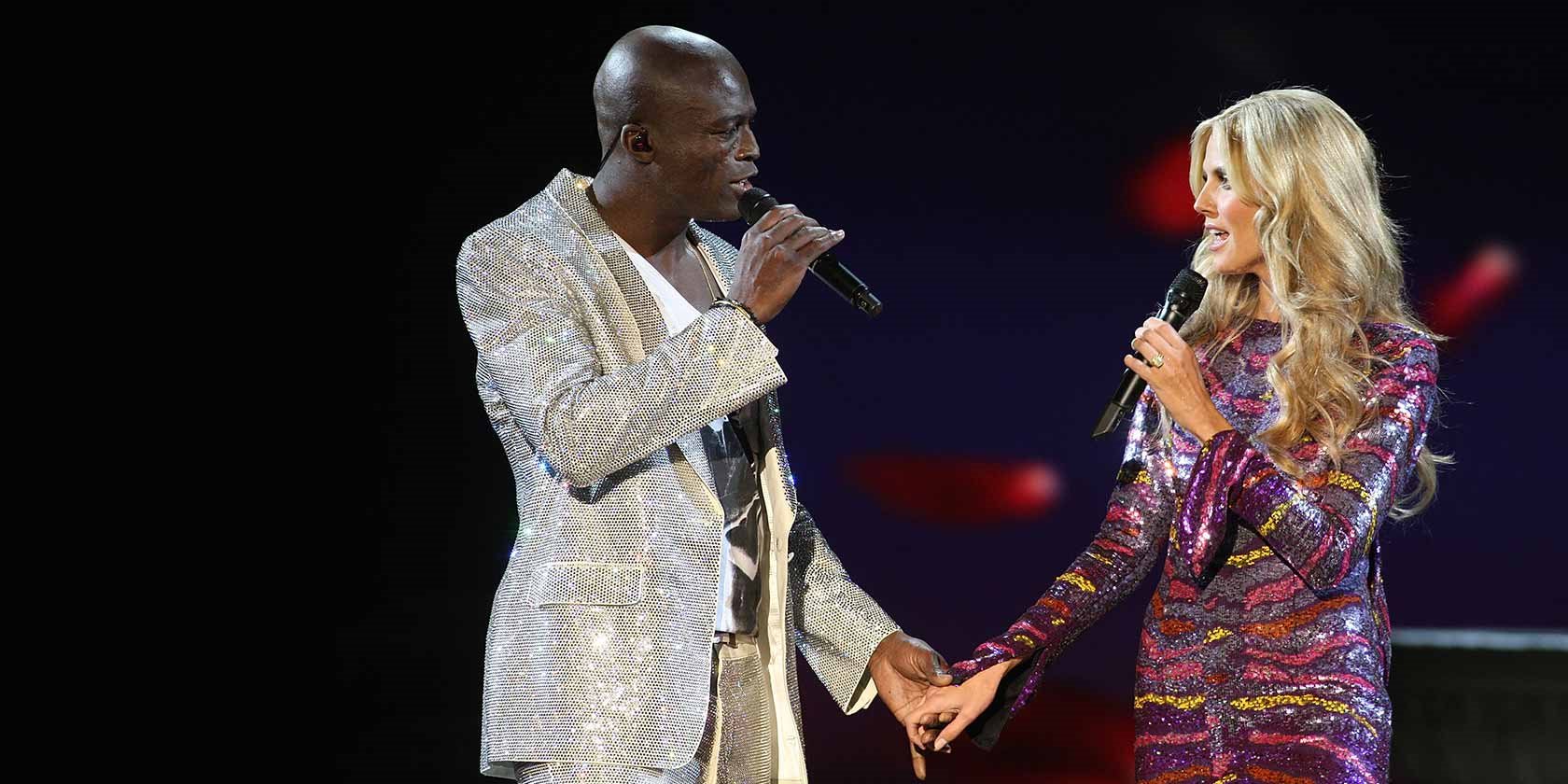 SUPERMODEL, children and career
As a supermodel, celebrity star, mother to four children and admittedly, a 45-year-old woman who looks so good that most women envy her, journalists and the paparazzi have filled gossip magazines with stories about Heidi Klum. But – perhaps as a consequence of a sound German upbringing and a stringent career plan – it isn't scandal stories that are the source of content. Obviously, in earlier times it was her job as a model that generated headlines and but since then it has been her work as a TV host that generates headlines. And today, it is Klum the business woman that is a hit.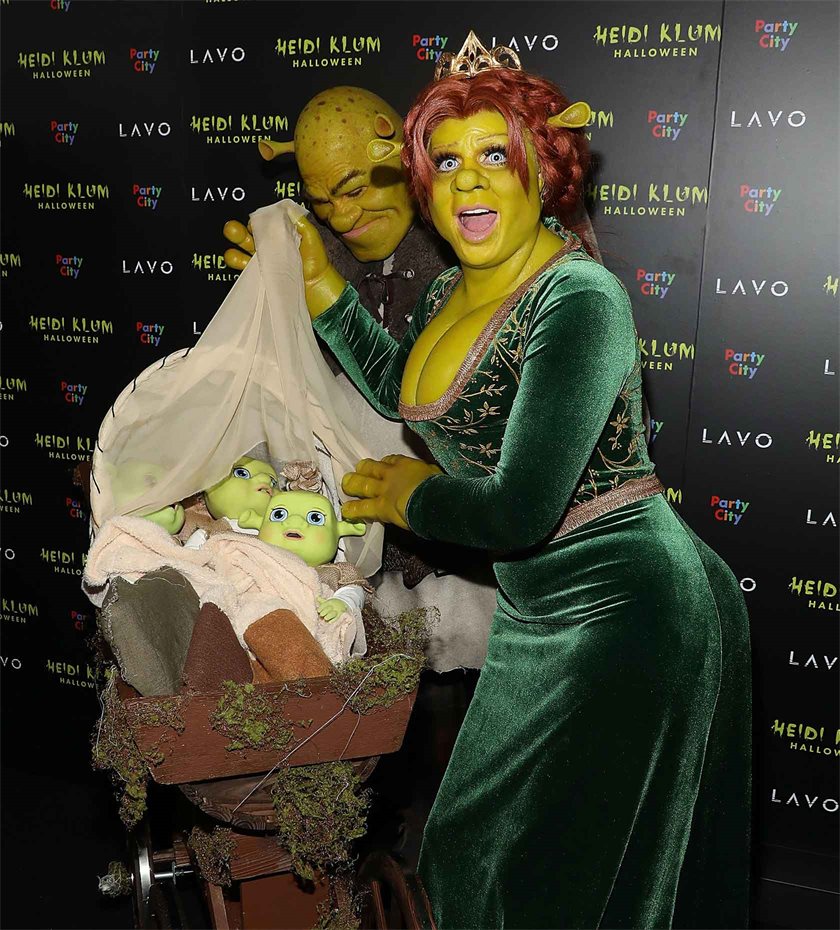 At 24, Klum married celebrity hairdresser Ric Pepino, who was 14 years older. The marriage lasted five years. Klum have birth to her first daughter, Leni, in 2004. The father was Formula 1 driver Flavio Briatore. But the relationship ended. In 2005, she met British soul singer Seal. Taught by hardexperience, five years would go by and three children would be born before the couple married in Mexico in 2010. Despite this, the couple divorced two years later. In 2014 Klum shared a relationship with Vito Schnabel, an art dealer who was 14 years younger. The couple are no longer together today – because it seems long-distance relationships sometimes face challenges.