YouTube is now a TEENAGER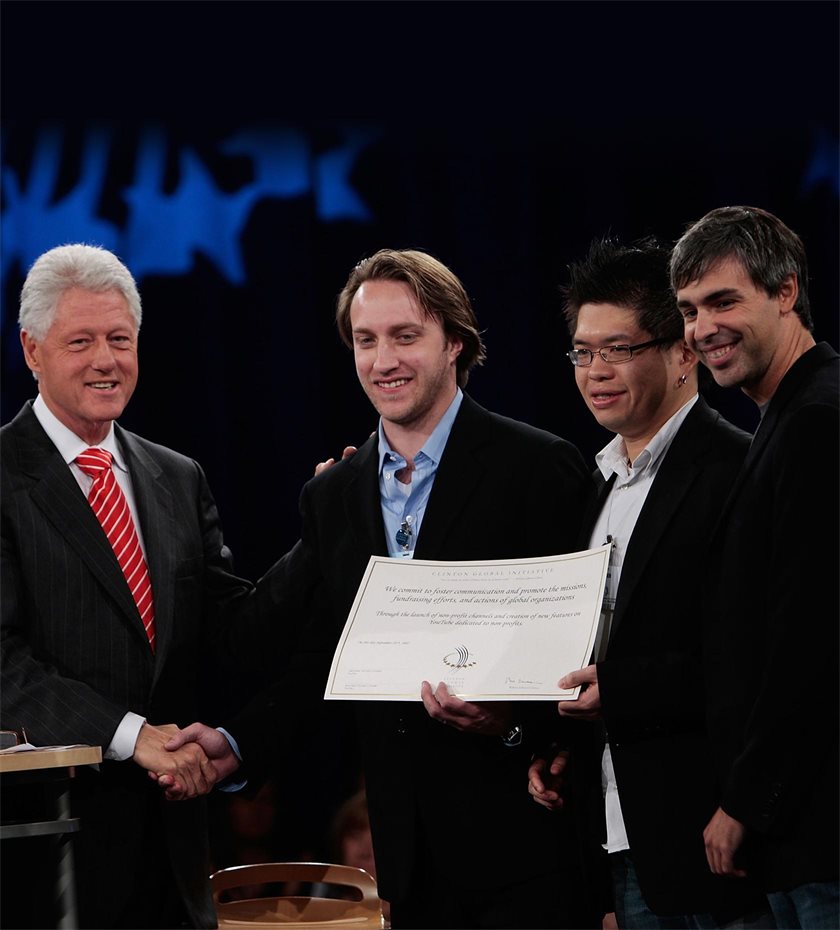 Superbowl 2004. The final show is fully underway. Janet Jackson and Justin Timberlake entertain the crowd with the number 'Rock Your Body'. An intense show that ends just as Justin Timberlake rips a piece of Janet Jackson's shirt exposing her breast.
The normally blasé USA went amok. And the episode – which quickly became known as Nipplegate – was quickly explained as a "wardrobe malfunction". But perhaps Nipplegate in a strange way was the reason why one of the most notable and profitable innovations on the internet came about – the video platform YouTube.
A year later, 25-year-old Jawed Karim was deeply frustrated by his failure to find the clip of Janet Jackson's breast on the internet. He was in fact very irritated about how difficult it was generally to find and share video clips with friends.
It wasn't because he lacked the ability. As a college drop-out he had landed a job at a major internet payment portal PayPal. And here he met his colleagues Chad Hurley and Steven Chen. If they also had difficulty finding the video clip of Jackson and Timberlake, no one knows. But it was Hurley and Chen who were the driving force behind YouTube.
On Valentine's Day in 2005, the three men registered YouTube. Things went fast after that. On 23 April of the same year the first video was uploaded. An 18-second clip where Jawed Karim in San Diego's zoo, in front of the elephants, declared a great interest -in their trunks. To date, the video has been seen 60 million times.
YouTube was officially launched in the month of December. Only 10 months later, the new video platform had established itself so strongly on the market that Google more or less abandoned their own project and acquired YouTube. From one day to the next, Chad Hurley, Steven Chen and Jawed Karim, became billionaires. The purchase price ended at an amazing DKK 10 billion. And as for Jawed Karim's search for Janet Jackson's breast, today the film clip is a top hit on YouTube with over 6 million views.
Changed media industry
The digital age has revolutionised the TV industry. In the past, a one-hour TV broadcast was an expensive and elaborate process that required small army of camera people, light and sound technicians, editors and journalists. Digital cameras meant editing could be done there and then, so it was easier and above all cheaper to produce and distribute live pictures.
Today, people can record high-definition videos on their smartphones; which makes image quality from the 90s appear grainy and blurred. But the main impact – and this is where YouTube enters the picture – was that ordinary people could now produce and distribute all kinds of entertainment, gags, educational material and use it independently of the major media corporations.
And it has gone only in one direction- up! The number of users in 14 years has increased to 1.5 billion today. From the first 18-second video clip 2005, to a billion hours of video shown every day all year round. The amount of users – both those who upload and those who view the film clips – makes it a hugely interesting market for advertisers around the world. In fact, Google's owners receive around DKK 90 million in advertising revenues every year. Today all of the established media has their own YouTube channel. Simply because old-fashioned flow TV is no longer popular among the young. They do not want to wait for the news or entertainment. It must be ready and accessible when they have the time and inclination to watch it.
YouTube create an interactive forum, where children and young people can have a "we" and "ours" experience. Even small children using tablets and smartphones spend more time looking at YouTube than traditional media.
Talent factory and strong political influence
YouTube has simply created a platform where ordinary people can show their talent. Take for example pop idol Justin Bieber. His mother had no idea of the consequences when she uploaded a video of her son singing on YouTube. The intention was just to share her son's talent with friends and family. But talent spotters saw the video, the young boy became a world star and the rest is history.
Education and politics
Even though it can be a bit of a minefield for the ordinary schoolteacher, YouTube is a relevant and effective teaching tool in schools, high schools and even universities. It does however, requires a lot of work in separating the good from the crap.
But for example, in Denmark, social studies teachers can look at the parliament's YouTube channel, where there are many educational videos. Other examples are the Danish court of law, the Danish Ministry of foreign affairs, Doctors Without Borders, The White House and Statistics Denmark. There are also further education institutions around the world who base their lectures on YouTube videos.
Politicians have also discovered that YouTube is crucial to their success. If they did not use the YouTube channel actively, then they would be at the mercy of the many thousands of uploaded 'private' video recordings and election meetings or at other locations where the candidates meet the voters.
In 2012, when Obama sought re-election, YouTube was an active part of his campaign. Every single time his Republican opponent appeared in the media, it was recorded, edited and uploaded on YouTube in no time at all. This paid dividends, especially among younger voters.
As president, Donald Trump also uses YouTube actively. Speeches, election meetings and commentary, from Latin American emigrants to his grand vision of our wall along the Mexican border as streamed into cyberspace from the White House. Understandably, many people now speak of a new "video democracy". And not a word about fake news.
Huge earnings for YouTube STARS
With more than 1.5 billion users globally, it is naturally never boring and the top stars enjoy huge earnings. Swede Felix Kjellberg is among the Top 10 list of earners, with more than DKK 70 million.
YouTube covers everything, from political campaigns to children who want to show what they can do – with songs, games or something else. But in fact the most popular viewing is watching people unpack toys. The most popular YouTube channel is simply called, Ryan ToysReview.
Here both children and parents can find inspiration for new toys and other leisure interests for small children. The channel broadcasts film clips of 7-year-old Ryan and his family every week. A very profitable enterprise. Because advertising income and sponsorships from the major toy manufacturers and the family DKK 145 million every year.
Here in Denmark, Swede Felix Kjellberg is the most popular YouTuber and goes by the name PewDiePie. He has more than 80 million subscriptions to his YouTube channel. His annual income is over DKK 100 million. Felix Kjellberg is a controversial figure because of a number of statements he has made which many people felt were strongly racist.
For example, Felix Kjellberg fell from grace with many people when he used the N word when describing people from Africa. He personally apologised, saying he had spoken out of line.. It doesn't seem to have affected his growing number of followers.
TOTAL NUMBER OF USERS: About 1.9 billion users every month, who on average upload one hour of video each. TOTAL NUMBER OF VIEWS: One billion hours of video are seen every day. GLOBALLY: YouTube is established in 91 countries and in 80 languages. MONEY: YouTube is hugely profitable. Business Insider estimates that last year alone, advertising turnover was USD 15 billion dollars – equivalent to DKK 90 billion. PROFIT: it is difficult to provide a precise figure, since it is part of Google's financial results. But it is estimated to be around DKK 25 billion.