Elite soldier in CYBERSPACE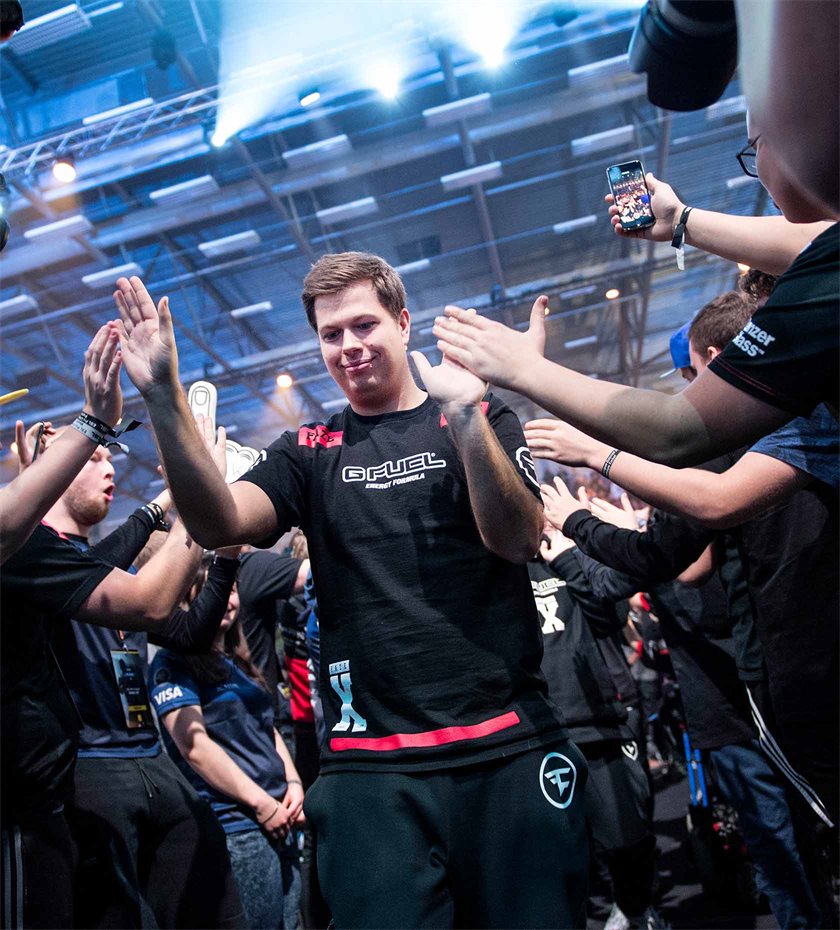 Really it should be Master of Business Administration and Auditing on his ID tag rather than "Finn Andersen – Call sign: karrigan – Tactical Leader – Professional Counter Strike Player". If that makes you picture a pasty-looking teenager in a dark room where the ghostly flicker of a computer monitor is the only light, the desk covered in empty soda cans and crisp packets – then think again!
For when 28-year old Finn 'karrigan' Andersen sits at the keyboard it's either in his large apartment in Copenhagen or on the podium of huge sports arenas all over the world, when he and the FaZe Clan team play for big prize money.
In fact, he has won so many tournaments that he has earned over DKK 4 million in prize money, some of which he has spent on a brand new 300 HP Porsche 718 Cayman, which he loves to drive at full speed.
But even though he wears a Rolex watch, he is certainly not a young, recently wealthy man, who likes to show off his wealth. "I'm not into suits and creases. I'm more into the casual look. But it's clear that my success on the Counter-Strike competition circuit with major cash prizes has given me a lot of freedom. And a cool apartment, car and watch are things I value, which I want to pay for", says Finn 'karrigan' Andersen.
Hard training
Even though luxury lies all around, there is precious time to enjoy it because the life of a professional e-sport player is not a bed of roses. Before major tournaments, Finn and the rest of the team stay in a virtual training centre, where they practice tactics and sharpen their skills, Monday to Thursday from 14:00 to 22:00.
"There isn't much time for anything else. It's mostly training and travelling to competitions. Last year, I spent around 180 days travelling. So when I have Friday and Saturday off, it's all about time with my girlfriend – and maybe a trip to the cinema."
In the month of June alone, he travelled to London to participate in the ECS Season 5 Finals. And then flew direct from London, travelling more than 9,000 km to Belo Horizonte in Brazil, to play in a tournament for a prize of USD 200,000.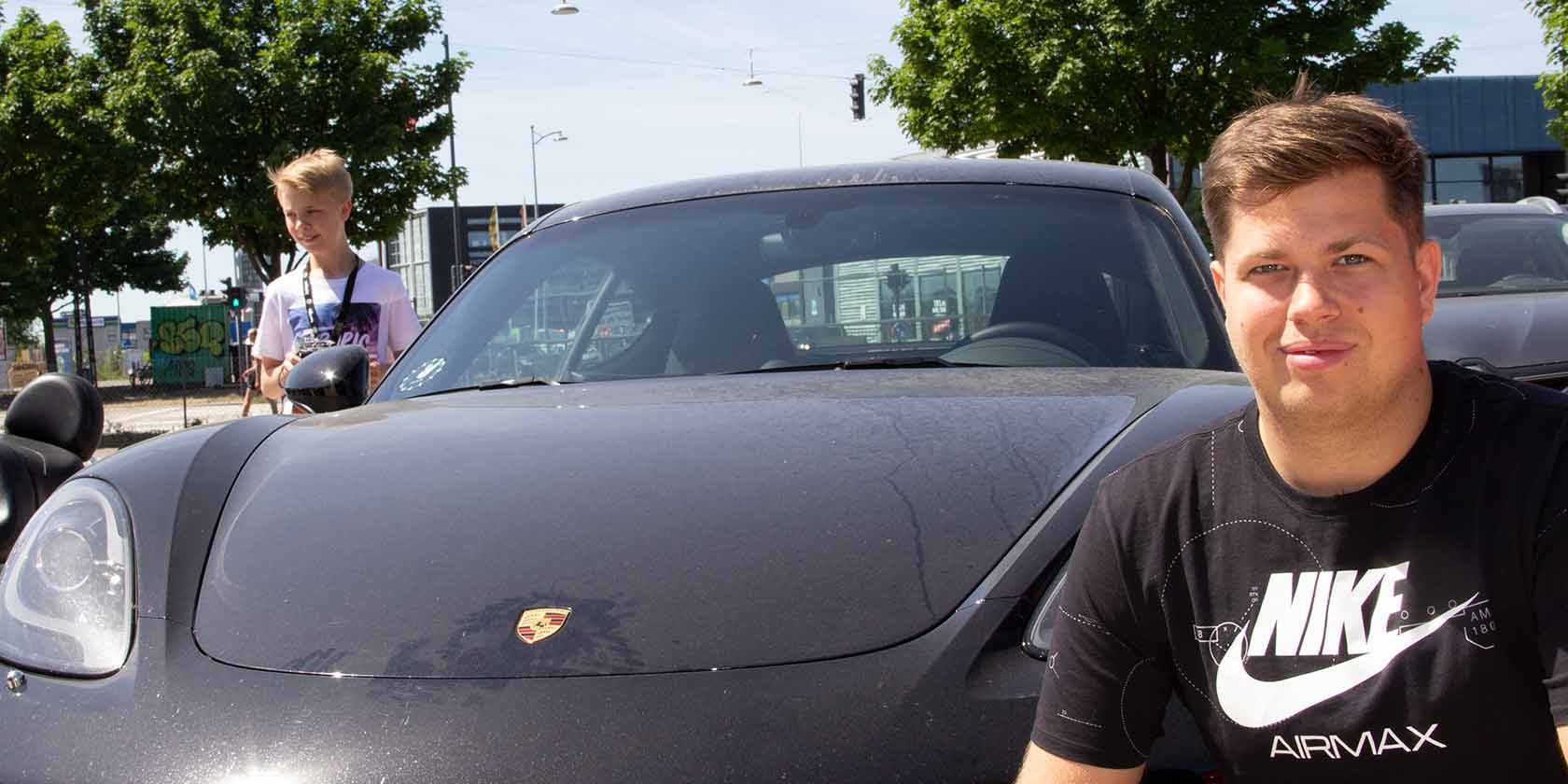 8,000 hours in front of the computer monitor
Finn 'karrigan' Andersen's success in playing Counter Strike did not happen overnight. "To reach the top level where you are offered a professional contract, you have to invest thousands of training hours, And of course win some tournaments. I have more than 8,000 hours under my belt," explains Finn "karrigan" Andersen.
But this enables him to have the life of a professional player, where e-sport provides a regular monthly income, prize money, travel, physical training and diet plans, so that his physical condition or a poor diet won't interfere with his competition performance. When he was much younger, his computer time got out of hand. His parents insisted he must do well at school too. Finn agreed, and dropped football so he could concentrate on school, his education and Counter Strike.
"It was important for me to complete my education. And above all, my father demanded it. I might have to read up on new rules or legislation but when my professional playing career comes to an end, I will have an education that I can use. This gives me a degree of security." However, as the tactical leader on his team, Finn believes he has many years left as a professional player, and that when he no longer competes in major tournaments there will be a career waiting for him as a trainer and
E-sport is exploding
What started as a kids activity has transformed into e-sport, a global sport. The professional approach to the sport is identical with the world of football, although the sums involved are not yet comparable. "Of course it's entertainment. When thousands of participants sit there and watch the fights on the huge screen, there's cheering and booing. We've reached a level where you won't get far if all you're interested in is money. It requires hard training and lots of talent. And above all, the will to win," explains Finn.
Finn 'karrigan' Andersen is ambitious and has a winning mentality. Several keyboards have paid the price for this when he has broke them in a fit of frustration. "When a team wins one of the major tournaments, there is often a rain of confetti. One of the things that can make me really mad is to come home after taking second place and seeing confetti fall out of my keyboard!"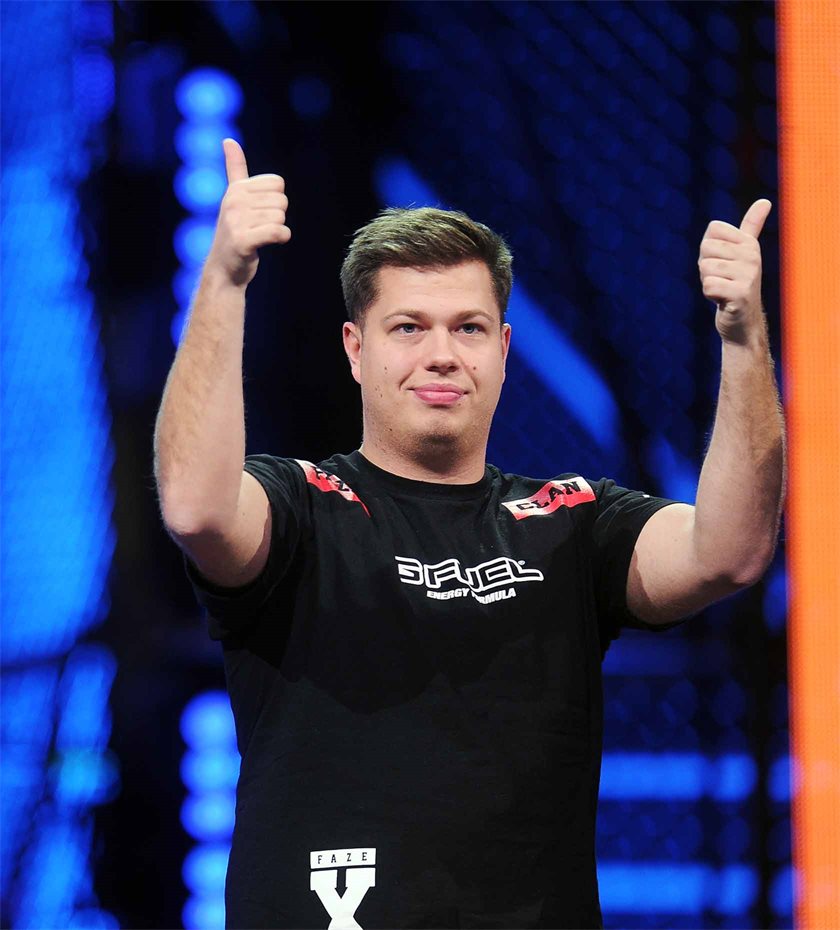 From a tentative start, the prize money has grown to huge amounts in international e-sport. Even very young players can sign contracts that give them fixed monthly wages of DKK 50,000. Finn doesn't say what he earns in a month but it is quite normal for stars to earn DKK 100,000 a month.
If you look at the sponsors of the major tournaments and professional teams, they are international computer companies like Benq and Microsoft who provide financing. In Denmark FCK ,TV2, Elgiganten, Power and Hungry.dk also provide sponsorship. The amount of prize money involved and players' wages are only expected to grow.
Downside
But there is an unpleasant downside to the money and e-sport. Because there is a lot of legal and perhaps illegal betting that takes place and some people lose vast sums when the 'wrong' team wins. "I've received hate mails from people who have lost huge sums of money on bets. They don't hold back. You're told how useless you are. How badly you play and how stupid you are. Verbal threats are also part of the game. But the only thing to do is to hit the delete button and move on," says Finn 'karrigan' Andersen.
Hate mail isn't something Finn 'karrigan' Andersen pays attention to. The spring tournaments in London and Belo Horizonte in Brazil command his complete attention – and the first Saturday in November this year when Finn and his team will compete in one of the major tournaments - this time at home, when the Royal Arena in Copenhagen opens its doors to 'Blast Pro Series – Copenhagen'. A tournament where FaZe Clan shall compete against other teams, including his old team Astralis, for total prize money of USD 250,000. A competition the team must win, because FaZe Clan only managed third place last year, behind Astralis, which took second place.
Name: Finn Holmfred Andersen Call Sign: karrigan Age: 28 – Born in Helsingør Lives in: Copenhagen Employer: FaZe Clan, USA – Started as a YouTube channel that focused on the game Call of Duty in 2010. Today is represented by the team on the computer game Call of Duty, Fortnite, FIFA and Counter-Strike Global Offensive. Today, FaZe Clan has nearly 65 million YouTube subscribers around the world. Education: Lower and upper secondary school. A bachelor degree at ABSS in Aarhus, and a master's degree in Business Administration and Auditing at CBS in Copenhagen in 2016 Career: First played in an international tournament in Moscow in 2008. Since 2016, contracted to FaZe Clan. Has previously played for: n!faculty, Copenhagen Wolfes, mousesports, Team SoloMid, Team Question Mark, Team Dignitas, Fnatic, ESC Gaming, and Astralis Prize money: USD 656,421 from 139 tournaments.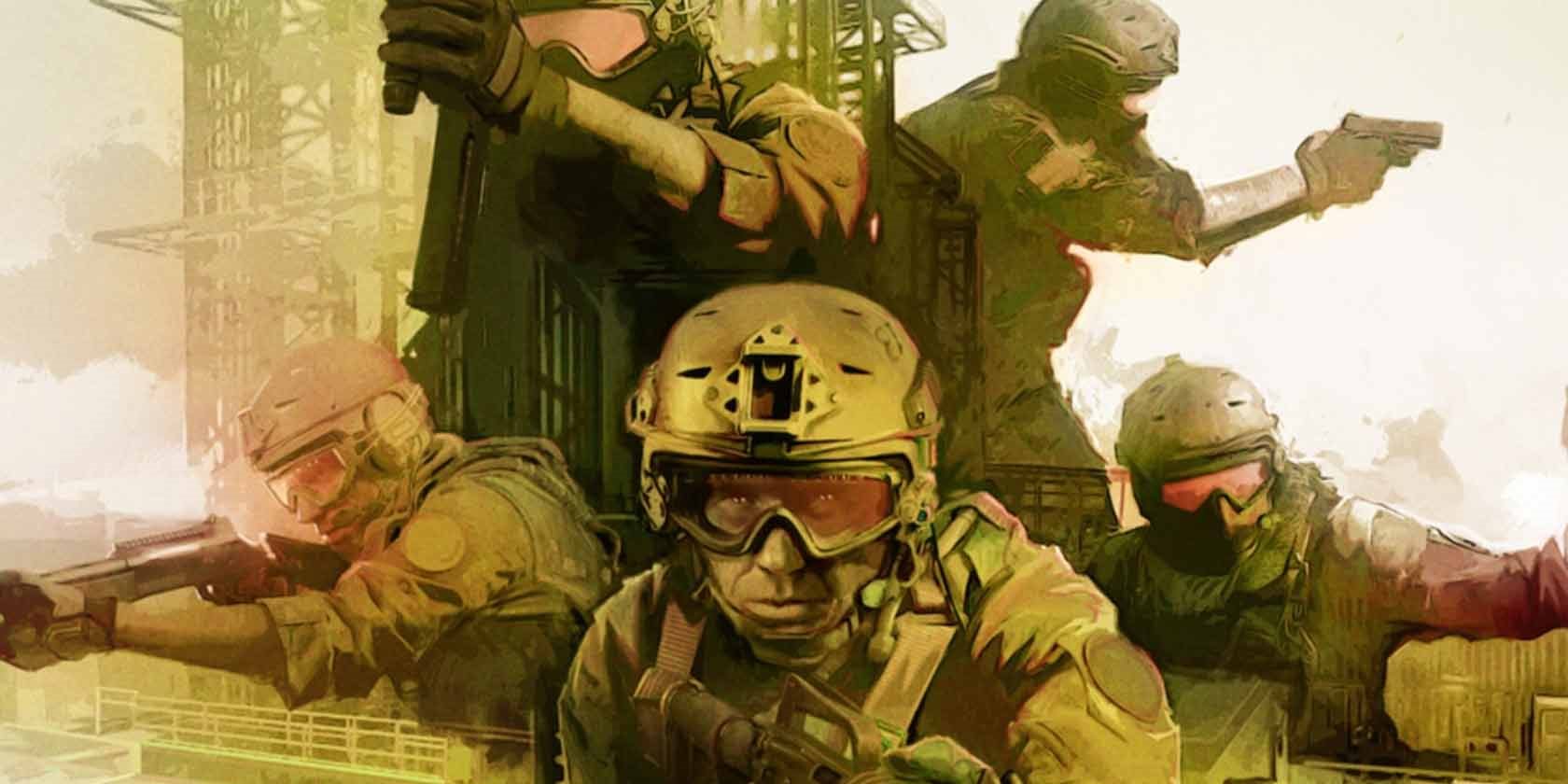 Follow your passion - but make sure you do well at school!
Laurids is 13 years old and dreams of winning the big prize money which he reads about online. But when he meets Finn 'karrigan' Andersen, the message his clear: Make sure you do well at school!
Laurids Vesterager is a slightly shy, typical 13-year-old Danish boy who loves playing modern online computer games. Minecraft is a hit. So too is Counter-Strike. At the moment, Laurids and his pals are fascinated by the game Fortnite, which is a global hit.
Today he is in Copenhagen to meet his idol, Finn 'karrigan' Andersen. With 500 hours of game time under his belt he has a long way to go to reach Finn's level. So he's fascinated when Finn sits in front of the computer monitor to show him some game sequences that he must master to perfection in the coming tournaments in England and Brazil. "I really understand why you're fascinated by the game. I've been like that too since I was a teenager. But if you want to become really good, you shouldn't just look at the money," Finn tells Laurids. "You must love to play and remember the excitement. That's what you need to win. To be able to win you need to spend thousands of hours training in front of the computer monitor."
Make sure you do well at school!
When even very young players can earn DKK 50,000 a month playing for professional teams, it can be difficult to concentrate at school. "I am one of the few players who has completed a higher education. When I started to spend a lot of time on e-sport it quickly got out of hand. I gave up football. My dad accepted that I played – even though he didn't fully understand the fascination. But he demanded one thing. Regardless of anything else, you must make sure you do well at school and get an education!"
This is the specific advice given to Laurids Vesterager – and to all of the other parents who have talented teenage kids who are clamouring to participate in major tournaments with major prize money.
However, right now it is difficult for 13-year old Laurids Vesterager to pay attention to anything other than the exciting opportunities that success in the virtual fighting scenes on the computer monitor. Especially when he and 'karrigan' break away from the game and go outside to the car park and look at the parked black Porsche 718 Cayman. In other words, Laurids' dreams have survived his meeting with his idol. So his parents will have to use their common sense.