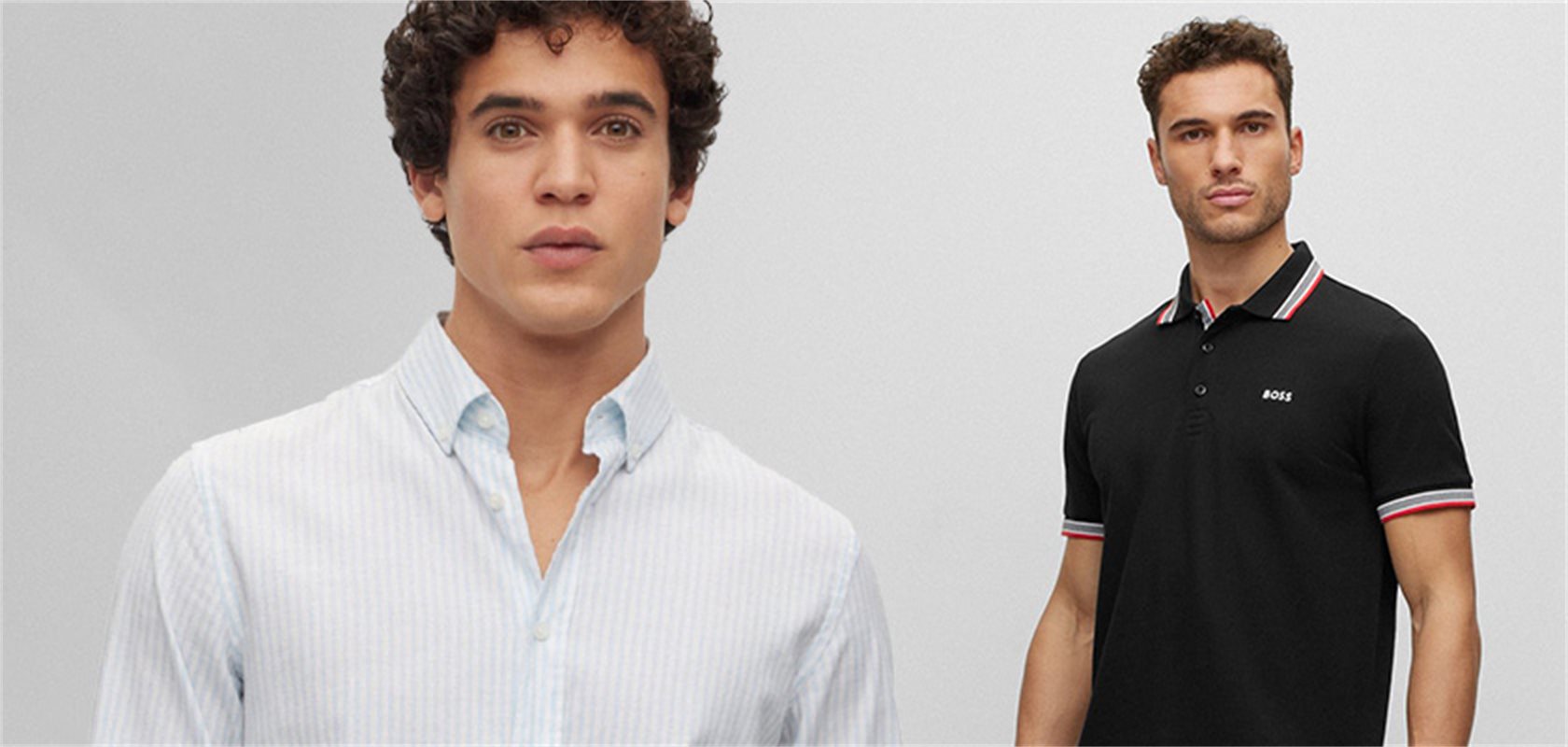 Hugo Boss
Hugo Boss menswear is the core brand of the German fashion house. The style is particularly characterised by contemporary modern elegance, thus appealing to a wide and varied target group. They offer a number of elegant classics for men of all ages, such as the classic Hugo Boss polo shirts, which never become outdated. The word 'modern' is an all-important design keyword here, and it is reflected in their choice of colours, cut and details. At the same time, simplicity is certainly a keyword for the overall style and acts as the common thread – not just for the core brand – but also for its sub-brands.
Be more than just well-dressed with Hugo Boss shirts, jeans, jackets and blazers
This German brand is nothing less than one of the most recognised and successful in the fashion world. It is stylish, quality-minded and has broad appeal. Since its foundation in Metzingen in Germany in 1923, the fashion house has been a huge success – and this despite facing major challenges, including several economic crises in the textile industry. Today, they design, manufacture and deliver designer clothing across the globe, consisting of no less than five different sub-brands, each with its own particular style. This allows them to dress any man stylishly and elegantly. It is therefore nearly impossible to search through the five different clothing lines and not find something to your taste – just try and you'll see what we mean. Browse our large section of Hugo Boss jackets that will keep you warm or maybe you are looking for a modern Hugo Boss sweatshirt to wear over your T-shirt or shirt.
Hugo Boss also offers belts, ties, card holders, socks and underwear
In addition to traditional style with Hugo Boss knitwear, suits, shoes, shirts and Hugo Boss high-quality jeans and trousers, Hugo Boss also makes underwear, gloves, socks, hats, belts, caps and wallets to match. This allows you to complete your style, from the innermost to the outermost layer – without missing anything. Like the elegant, classic design that characterises menswear, this style is also found in the numerous types of accessories. The design has been kept simple, though with the occasional more modern and trendy choice of colour. This allows you to combine a discreet Hugo Boss shirt, jeans and blazer with a colourful tie, socks or stylish Hugo Boss leather belt.
Buy Hugo Boss online right here at Kaufmann-store.com
At Kaufmann-store.com, we simply cannot hide our admiration for the German fashion house and its astounding ability to create masterpiece after masterpiece. Therefore, we have made it our calling to collect and handpick the very best of the design gems, which you can now acquire online. Under each product, you can read more about the material, colour, size and the item itself, and you can also see more pictures. In the unlikely event that you need more information or if you have a question, please do not hesitate to contact us. Our skilled employees are ready to offer a helping hand as well as provide relevant advice and guidance.