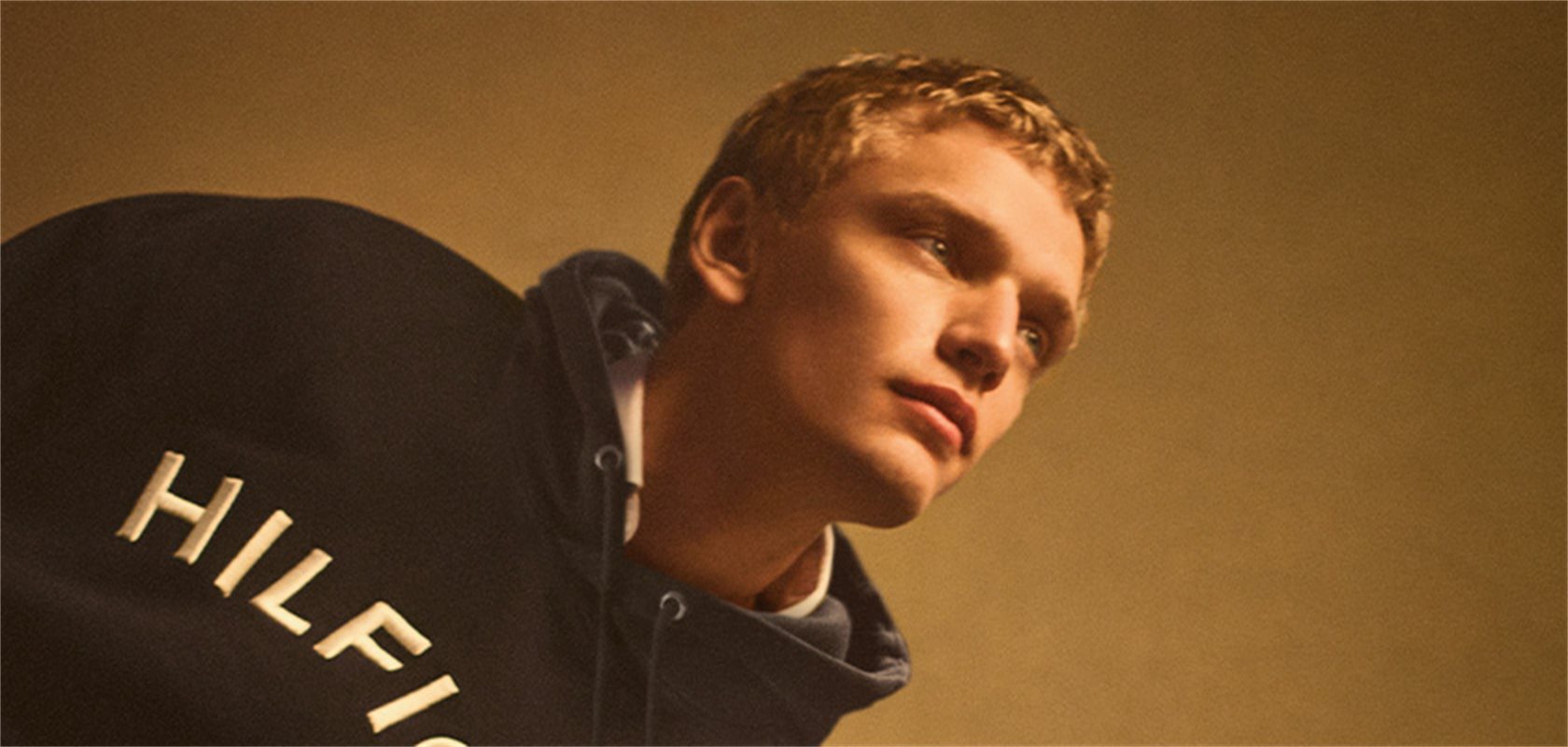 Tommy Hilfiger
It's cool, American and classic. These words describe the essence of the American clothing brand, with designs characterised by their signature colours of white, blue and red. The designer behind the success story has always been known for his casual and classic approach to clothing fashion. As he puts it: 'We are not trendy. We have style.' And you really cannot say it any better than that. What we have here is a brand that never aims to be mainstream or lets itself be governed by mainstream fashion tendencies and trends. Instead, it aims to create designs that can remain in your wardrobe season after season, like Tommy Hilfiger knitwear that can be worn for everyday use, at work or a party. Inspired by the classic American style, with just a touch of coolness, they create collections suitable for modern men of all ages.
Tommy Hilfiger makes shoes, jackets, polo shirts, shirts and jeans for the modern man
'Tommy Hilfiger will soon dominate men's fashion'. This is what was proclaimed on a billboard ad in Times Square in New York towards the end of the 80s. It turned out to be true, and since then, the American brand's well-known three-colour pallet has been riding a seemingly endless wave of success. The fashion world received the first collection in 1984, and the brand has since developed into a major player worldwide. The classic and uncomplicated style has many fans across the globe, and the clothes are diligently worn by stars such as Leonardo DiCaprio, Mick Jagger, David Bowie and Lenny Kravitz. Despite the famous following, the primary ambition of the designers has always been to create collections for the common man, who wants a safe and classic style, with good quality and at affordable prices. See among other things our selection of Tommy Hilfiger trousers, so you can wear a pair of high-quality modern trousers.
Large selection of Tommy Hilfiger trousers, socks, jackets, knitwear, blazers and t-shirts
If you ask the designer behind the successful fashion house, the clothes do not sell due to a fancy button on the shirt or a crooked trouser pocket. They sell because of timeless, stylish and classic design, which has the potential of being every man's favourite. In addition to the numerous classic styles like Tom Hilfiger polo shirts, socks, sweatshirts, jackets and blazers, the brand also designs a large array of accessories to complete the style. This includes Tommy Hilfiger wallets, belts, socks, underwear, scarves, hats, caps, card holders and card holders and bow ties,
Buy Tommy Hilfiger online at Kaufmann-store.com
With brands including Tommy Hilfiger, Sport and Denim, there is plenty to choose from among the different clothing lines, whether you are a businessman, sports enthusiast or just a regular guy. The clothing with the rectangular, flag-like logo is classic and modern all at once – always with a touch of the well-known favourite colours of red, white and blue, which appear in all the designs. The collections' quality-focused and classic approach is your guarantee that the different styles can be used for many years to come. These are the exact reasons why we love this American brand and its numerous styles at Kaufmann-store.com. We have therefore compiled a broad assortment of their different styles, like Tommy Hilfiger shirts, shoes, polo shirts, jeans, socks, trousers, T-shirts and much more – all at affordable prices and with fast delivery.