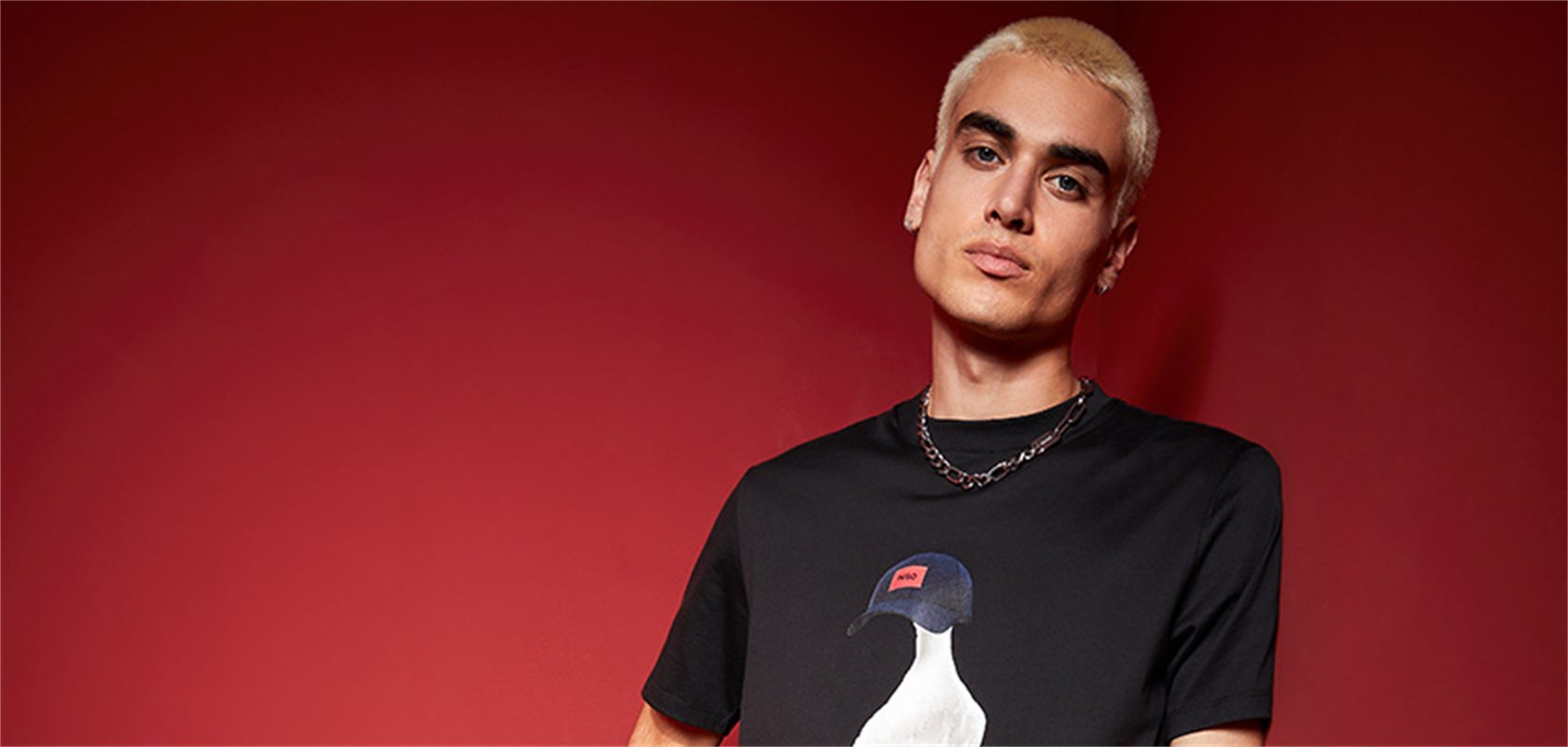 Hugo
Here on this page you can find our wonderful selection of HUGO online. This is a fast-growing and incredibly trendy designer line from Hugo Boss. This line distinguishes itself through its clean and simple lines and a fashionable and contemporary look that appeals to the selective man, who will compromise neither quality nor design. With its simple cut and elegant look, it also appeals to those who want to create their very own personal style. For example, you could wear jeans and a T-shirt from this brand, and then add socks or a scarf in one of the numerous seasonal colours. HUGO includes T-shirts, jeans, shirts, shoes, boxer shorts and polo shirts, so you can dress in this exclusive designer clothing from head to toe and from the innermost to the outermost layers.
Hugo t-shirts for the selective man
The designer behind the popular clothing brand is one of the most successful in fashion history. The brand is from Germany, where it was founded in 1923 in the German town of Metzingen. This clothing line is regarded as their trend brand, which interprets avant-garde design. The collection includes clean lines, a fashionable look and an innovative expression. It is trend setting and often on the cutting edge of fashion and combination – both regarding design and choice of materials. This is why this clothing line has so quickly become a huge hit, in particular among the most selective target group. The clothes are ideal for those who want a simple and elegant style – or people who want to create their own personal touch with colourful accessories. With this brand, anything is possible.
Buy Hugo fashion clothing online right here
Despite the economic crises in the textile industry, for instance the crisis from the late 1920s, the brand succeeded in continuing to produce fashion. Today the German fashion house is an icon in the fashion world – well represented within fashion for both genders. At Kaufmann, several of the many sub-brands are represented, including this clothing line. On this page, you can therefore find a carefully selected assortment, which includes HUGO waistcoats, shoes, suits, blazers, polo shirts, T-shirts and much more. So feel free to explore and let yourself be inspired by the numerous unique designs. If you have questions or sales enquiries, you are always welcome to contact us.
High quality and good fit
There is no doubt that this is a luxurious and simple design, but this trend-setting clothing line also offers remarkable quality. This applies to everything, from HUGO jeans and waistcoats to T-shirts, suits and polo shirts – in other words, the entire collection. You are always guaranteed that there has been no compromise with the choice of material, processing or production. Furthermore, the design also takes into account the shape and figure of the modern man, ensuring a great fit. The choice of colours is simple and discreet, and therefore ideal for work, a night out in town, or just about anything else.