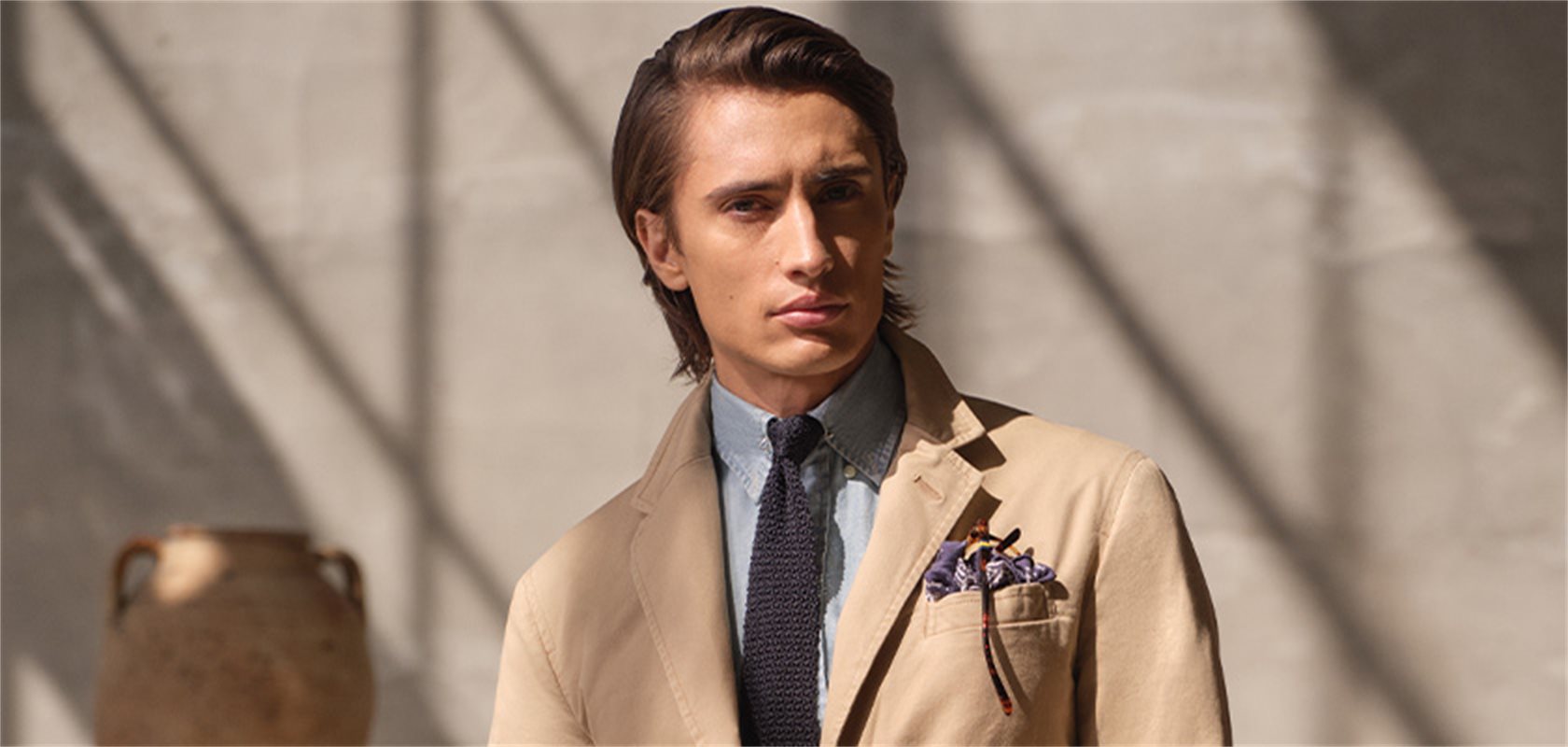 Polo Ralph Lauren
This reputable and world-famous American brand has taken the fashion world by storm on several occasions. Time and again they deliver new collections of timeless, iconic apparel, with a modern touch, fresh seasonal colours, print and innovative textiles. Polo Ralph Lauren still defines the so-called preppy lifestyle, which is inspired by the exclusive and personal style of the American upper class. But, you do not need to be preppy to wear any of these numerous styles, which includes Ralph Lauren shirts, T-shirts, blazers, jackets, knitwear, ties, trousers, bow ties and much more. The target group is broad, but it is aimed at the quality-conscious man with a sense of fashion and elegance.
Ralph Lauren – From ties to a world of jeans, polo shirts, shoes, t-shirts and much more
It all started with the design and production of ties and now covers everything, from Ralph Lauren knitwear, vests and shorts, to Ralph Lauren accessories such as wallets, hats, socks, underwear, belts and card holders. Apart from creating quality products, they have also created an entire world of unique men's fashion, and they invite men from all over the world to partake in their dream. Today, their collection is sold all over the world, and everywhere the brand is known for its high quality and stylish designs. This is in part due to the unique mix of luxurious quality and American style and design, which has also led to several recognised awards over the years.
Ralph Lauren dazzles with attractive designs of caps, suits, waistcoats, shirts, etc.
Season after season, the American brand retains its status as one of the world's most timeless brands, with a casual yet preppy look. What started over 40 years ago, inspired by Ivy League trends, continues today, and Polo Ralph Lauren still sets the standard for the well-dressed, casual style. Thanks to classic favourites like Ralph Lauren polo shirts as well as their more colourful city-look, with styles in modern cuts and clear colours, which nonetheless retains its rich tradition and authenticity. Their versatility and capacity for renewal also contributes to their ability to reach a broad target group across borders, ages and cultures, which have made them a bestseller in numerous countries worldwide.
Buy Ralph Lauren waistcoats, jackets, t-shirts, blazers and polo shirts online here
Here at Kaufmann-store.com you will find a large selection of Ralph Lauren menswear, which includes jackets, shirts, shoes, T-shirts, knitwear and trousers. With their extensive collection consisting of favourites for your everyday life as well as festive occasions, their elegant city style can meet all the needs of the modern man. Ralph Lauren sweatshirts are perfect over a shirt and pair of chinos, and possibly best of all is that the small, well-known rider is weaved into virtually every style as a guarantee of high quality. Regardless of what you are after, you very likely to find it with this American brand, as long as you are after a laid-back, classic look with American trends.