Andreas Mogensen - Back in Space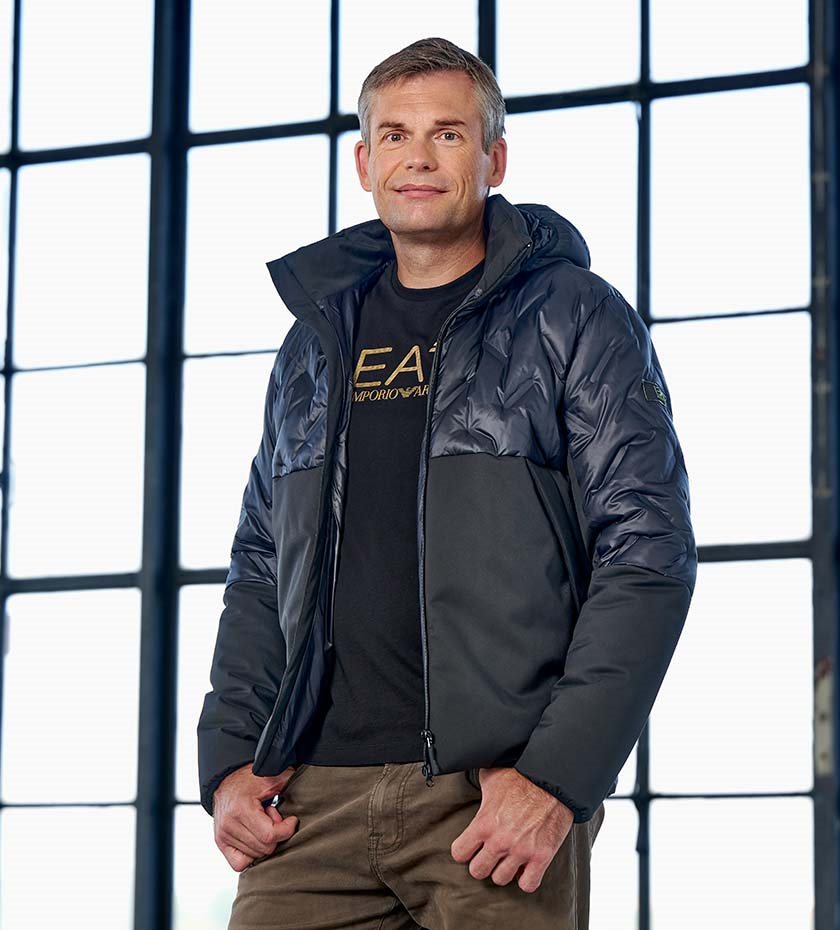 In 2015, his dream came true: at the Baikonur Space Center in Kazakhstan, Andreas Mogensen is buckled into his seat in the Soyuz rocket. Steam and smoke pour out of the rocket. The countdown reaches zero, and suddenly two million horsepower blasts Andreas Mogensen up through the atmosphere. The journey to the International Space Station, ISS, is under way.
For ten days he tasted the unique experience of weightlessness. And once he arrived at the space station, he immediately began the scientific experiments that made him the first Dane to write astronaut on his calling card.
"It was a dream come true. As a boy, I only saw a future that somehow included space travel for me. And the path to that meant either training as a fighter pilot or an aerospace engineer. But once a career as a pilot was over, you could 'only' look forward to ferrying tourists around the world in giant passenger airliners. So engineering won in the end," says Andreas Mogensen. First, he earned a master's degree in Aerospace Engineering from Imperial College London. This was followed by a PhD in Aeronautics at the University of Texas at Austin. But the first steps towards his goal were a small news telegram that caught his attention back in 2008.
It informed him that the European Space Agency, ESA, was looking for candidates for its next batch of astronauts. The vacancy notice attracted almost 10,000 applicants.
But with a mixture of skill and willpower, he went all the way. And in the early summer of 2009, he was able to join a select group of men and women training to become astronauts. Training that would take six years before he was first buckled into a space rocket bound for the International Space Station.
Pilot & Captain
It's been seven years since he was last in space. About 400 km above the Earth's surface. And now, for the second time, the dream is becoming a reality.
Sometime in August next year, he'll make his second trip to the ISS. And this time, unusually, he'll be the pilot of the 70-metre tall SpaceX Falcon 9 Dragon Crew when he and the rest of the crew get the green light to lift off from the Kennedy Space Center in Florida.
When the countdown reaches 3-2-1-Lift Off, Falcon rocket captain Jasmin Moghbeli and pilot Andreas Mogensen will unleash the nine rocket engines. Everything will shake and shudder intensely as they break the law of gravity and ascend toward weightless space.
Just eight minutes later, they will have escaped Earth's grasp and be flying smoothly - but at tremendous speed - towards the International Space Station (ISS), which is in constant orbit around the Earth. With a constant speed of 27,700 km/h, it is not easy to catch up.
The rotation of the Earth and the space station's own speed mean that there are very few times when Andreas Mogensen, as pilot, can hope to steer the space capsule into precise rendezvous with the space station. And we're talking about hitting a point of absolute precision out in space. A destination where there is no room for error.
It is quite unusual that a Danish astronaut gets a second trip to the space station. But it is even more unusual that Andreas Mogensen has been appointed pilot of the spacecraft this time.
And it is quite exceptional that he will be the Commanding Officer of the International Space Station for the next six months.
" It has never happened before that NASA has assigned a European - let alone a non-American - to pilot a mission. While there is, of course, a degree of politics in such an appointment, it is a pat on the back. Not just in comparison to my first mission in 2015. It is of course also a recognition of the work I have done over the last seven years as liaison officer between NASA and the European Space Agency (ESA)," says Andreas Mogensen.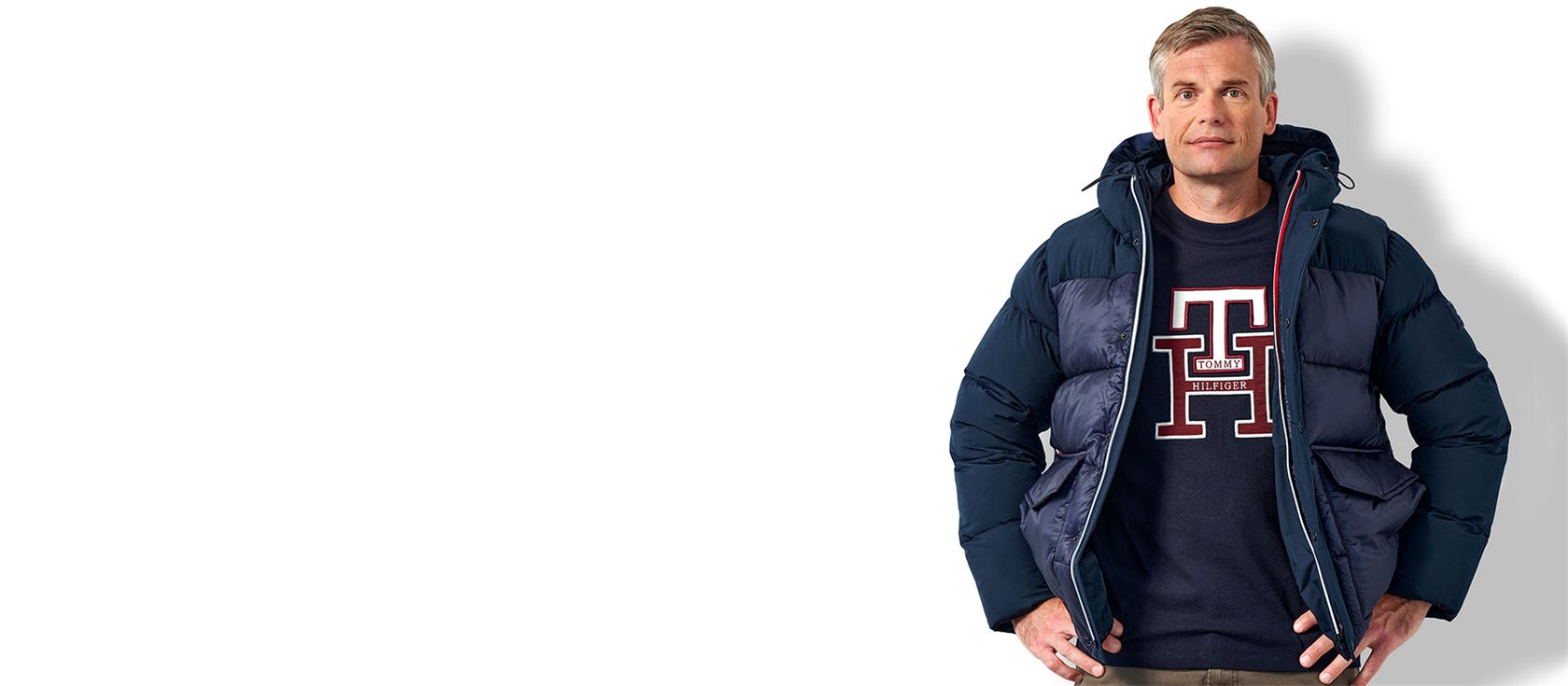 Preparing new missions
Since his first mission, he has been stationed in Houston, Texas, working at NASA, where the agenda now revolves around two things: The first goal is to bring man back to the moon as early as 2024. Second, NASA and ESA's official goal is to make a space journey to Mars sometime in the 2030s. Andreas Mogensen's upcoming mission to the ISS is also part of the preparations for both future lunar and Mars expeditions.
"The experiments we will be conducting on the space station are very much about the development and refinement of the technology needed to make long space journeys in a weightless state. On my first mission, I worked on a system to recover resources and produce drinkable water. This time, I'll be working with a 3D printer so we can produce our own spare parts in space," says Andreas Mogensen.
Being able to restore the crew's water supply and make their own spare parts is clearly of great importance once the mission to the Moon is underway in two years' time. Not to mention the six-month journey to Mars.
"Establishing a base on the Moon and a space station in lunar orbit is an important stepping stone to facing the challenges we may face when we reach Mars in 10 years' time. Here we will gain the experience of living for a long time in a weightless state. More importantly, how we can generate our own water and oxygen. And, as we see in some of the science fiction films, grow our own vegetables in the lunar base laboratories."
The six-month mission on the ISS - and the future lunar base - also plays a role in gathering knowledge about weightless life in space.
"Of course, we have our scientific experiments to carry out. But we also need to keep fit and maintain muscle mass. At home, we've been working out, of course, but there's also time in the day programme up at the ISS to work out on the treadmill, exercise bike and strength training with a special machine that uses vacuum to work the muscles."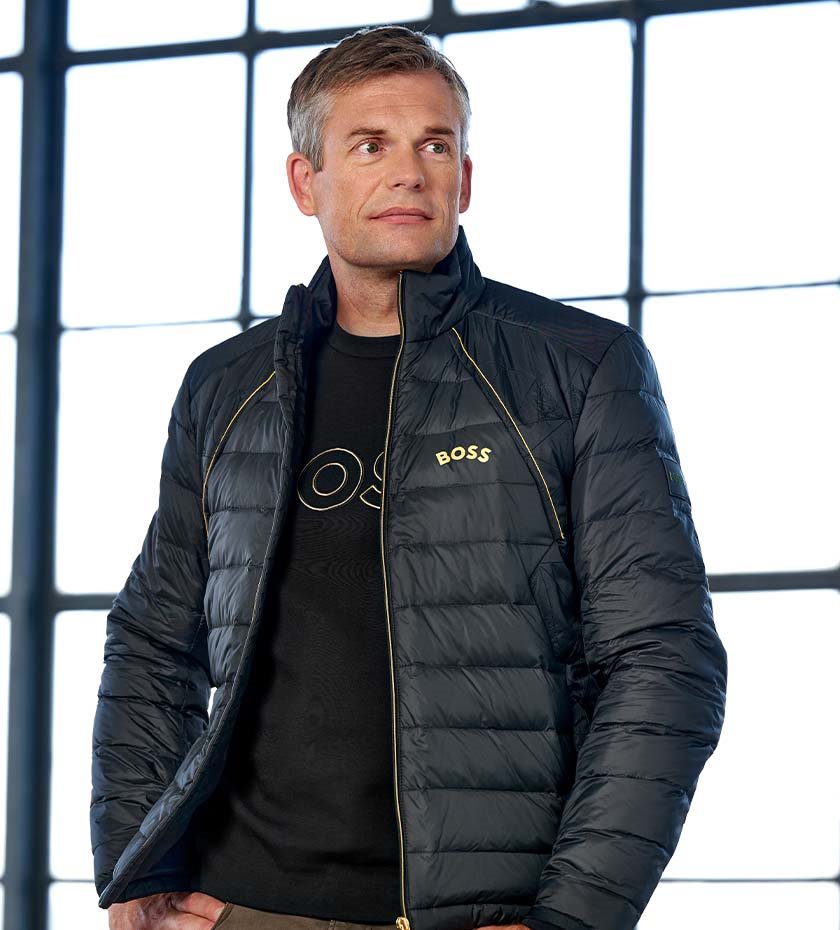 He continues, "It's also about mental preparation. We have to live in very few square metres for six months. So it's important that we can tolerate each other. Particularly in a few years' time, when the journey to Mars will take six months."
But for now, it's all about preparing for a new lunar mission. Of course, being able to explore the Moon again will play a big role. After all, there hasn't been a human moonwalker since 1972. Perhaps it also matters that scientists expect to find - and perhaps later extract - a number of rare and valuable minerals on the Moon. In addition, the moon base is planned to be located at one of the poles, because it is thought that there is a good chance of finding large reserves of water in the form of ice.
The fact that NASA and ESA are planning to have a base on the Moon as early as 2024 is probably also due to the fact that China and Russia also have plans to bring humans back to the lunar surface. And just like in the popular sci-fi movies and series, winning the race to be first is important.
Back in school
From his first trip to the ISS in 2015 and the successful landing in the Kazakhstani wasteland ten days later, Andreas Mogensen was fired up for another trip to the ISS. And a dream will now come true in the summer of 2023.
Even as captain of the space station during the six-month mission. That means another trip back to school. "It's a different type of rocket than the one that took me up to the ISS the first time. This time, I'm getting to know Elon Musk's SpaceX Dragon down to the last detail. Part of this is that I'll also be piloting the spacecraft and manoeuvring it into perfect docking with the space station. So it's long days at school. This summer I spent a week in Cologne. And in the coming months, there are lots of classes before I'm ready to get in the pilot's seat."
It will also be a different experience for the family. His first spacewalk was of course exciting. Especially for his wife, Cecilie. "But for my children, who are only three, five and eight years old, everything that happens next week is a bit unreal. Cecilie, on the other hand, is completely sold on my mission. And that's my great passion. She's not that interested in space herself. But even though it's a challenge for her, she supports my project 100 per cent," says Andreas Mogensen, adding that she's also great at 'keeping him grounded' when his dreams get a little too far-fetched.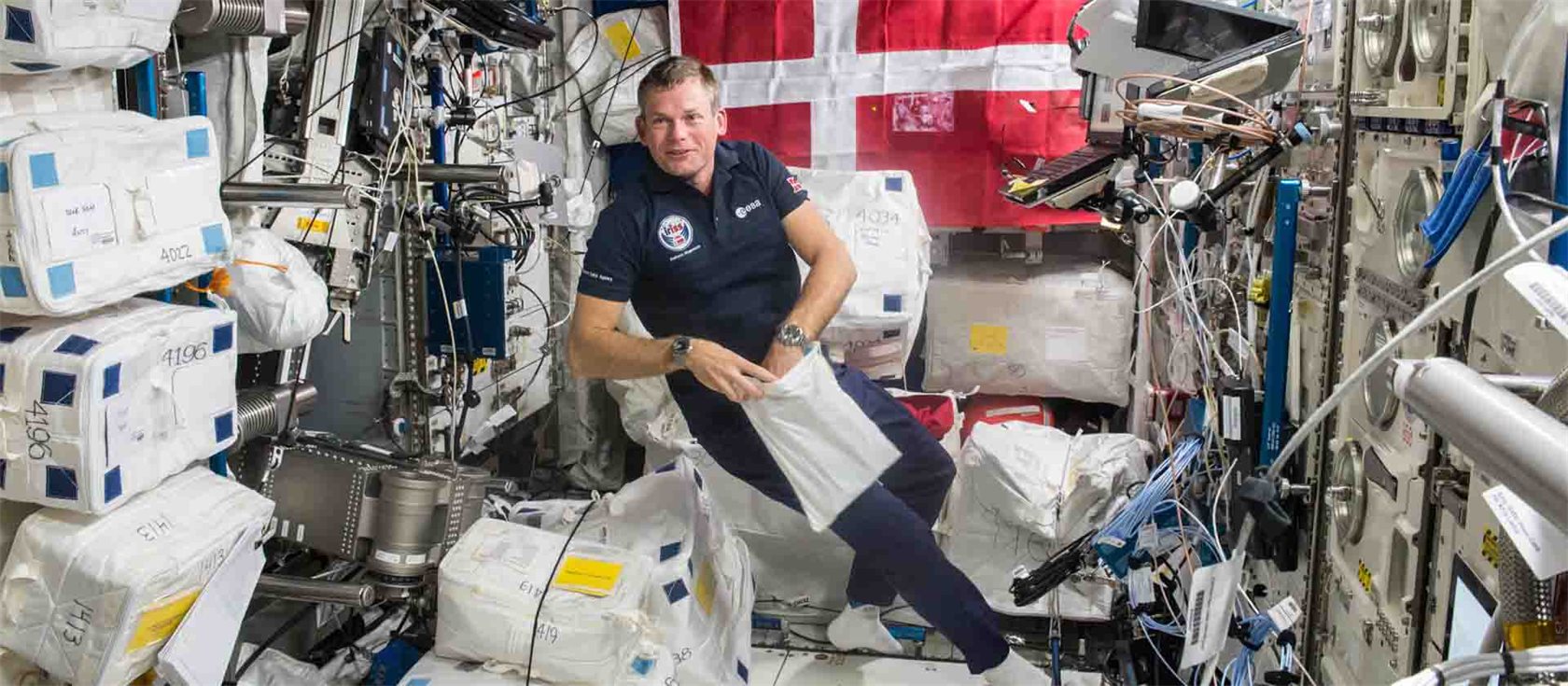 The national hero
But in many ways, Andreas Mogensen's astronaut career has changed his family's life. Next year, his wife and children will be without him for six months.
Education and training around the world have also made him something of a globetrotter, with regular trips to Europe and commutes between the Kennedy Space Centre in Florida and Houston, Texas. And in just ten days in September 2015, he has become the closest thing we have to a Danish national hero. In any case, the name Andreas Mogensen has become known to young and old alike in Denmark.
His achievement also did not go unnoticed in the Royal Family, where Queen Margrethe dug deep and honoured the Danish astronaut with a rare award in the form of the Royal Medal of Reward in gold of the 1st degree with crown and inscription. But there have also been less pleasant experiences.
In any case, Andreas Mogensen's space journey and work with ESA and NASA have brought a number of conspiracy theorists out of the bush.
"Every now and then I upload beautiful and interesting space pictures on Facebook and Instagram. Most people are of course happy to see these beautiful pictures. But every time there are also conspiracy theorists who make strange comments," says Andreas Mogensen.
It is mainly the so-called 'flat earthers' who firmly believe that the earth is flat. They are unwavering in their conviction. "If I took them up in a space rocket and convinced them that the earth is round, well, others would just claim that we had bought them to change their minds. It's really quite incredible."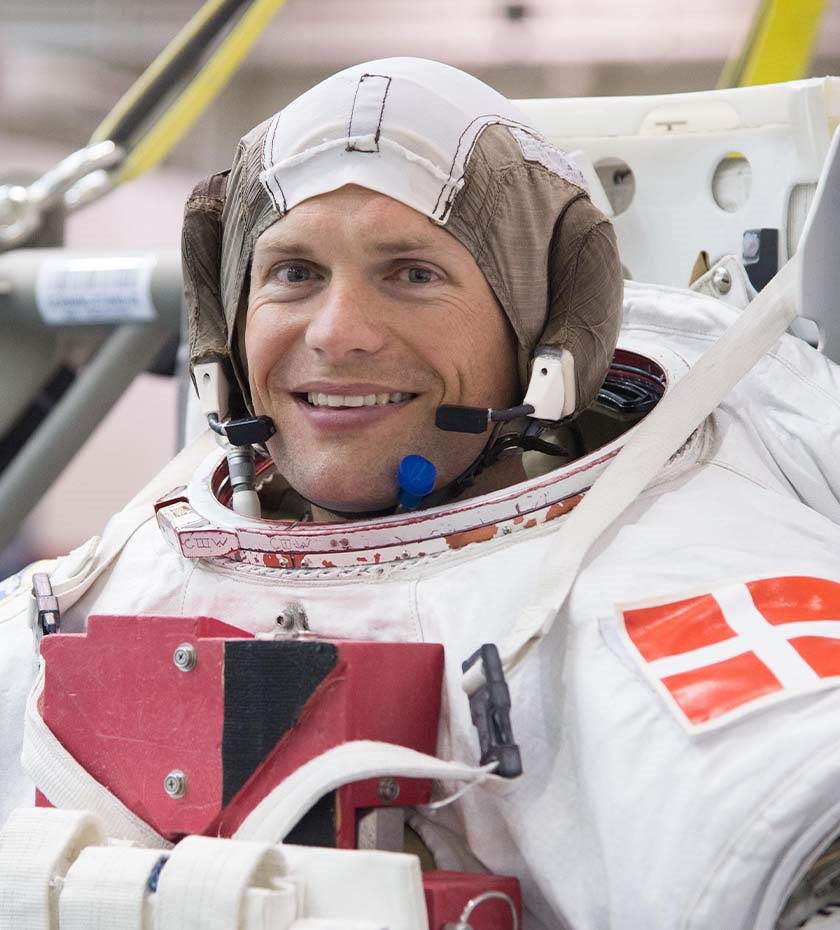 Spacewalk and new missions
But it's not something that worries him greatly. Right now, it's all about preparing for his mission next year to the ISS. And dreaming of going on a spacewalk. "It would be great if we could do that. There are always things that could break and need to be repaired. A solar panel that needs fixing. Or a new instrument that needs fitting. Whatever it is, it will be an absolutely exceptional experience."
But while being a space rocket pilot and captain of the International Space Station for six months may seem like the greatest achievement of his career, he still allows himself to dream bigger.
"Even though there is often politics involved in the appointments, and ESA is working with NASA on the upcoming lunar missions, it could be quite extraordinary to be the first Dane on a moon walk," says Andreas Mogensen and concludes: "And who knows? In ten years' time, we'll have a rocket capable of making the trip to Mars, and I'll be only 55!