Lionel Messi - The bold genius from Rosario
The legendary striker can often be seen strolling around the pitch without a ball. In fact, he looks a bit uninterested while his teammates fight. But make no mistake. Although Lionel Messi looks like he's walking around in his own world, it's equivalent to a constant observation of the game's development and a razor-sharp analysis telling him which balls to chase and which to let continue to someone else. Perhaps also because, at the age of 35, he can no longer run at full power for all 90 minutes. Nevertheless, he was decisive when Argentina won the World Cup for the third time shortly before Christmas. And that's not all: In February 2023, he received even more honor when FIFA named him the world's best football player. Not least because he played a crucial role in Argentina's World Cup triumph.
Playing with the ball has always been a big part of the family. Nevertheless, there is some doubt about when Lionel first showed up for training at his father's club, Grandoli, in his hometown of Rosario just south of Santa Fe in central Argentina. Some sources believe he was only four years old. Others, that he was five years old when his father, Jorge Messi, took him to practice. But one thing was certain: even though he was only five years old, he could already do something quite extraordinary with a football.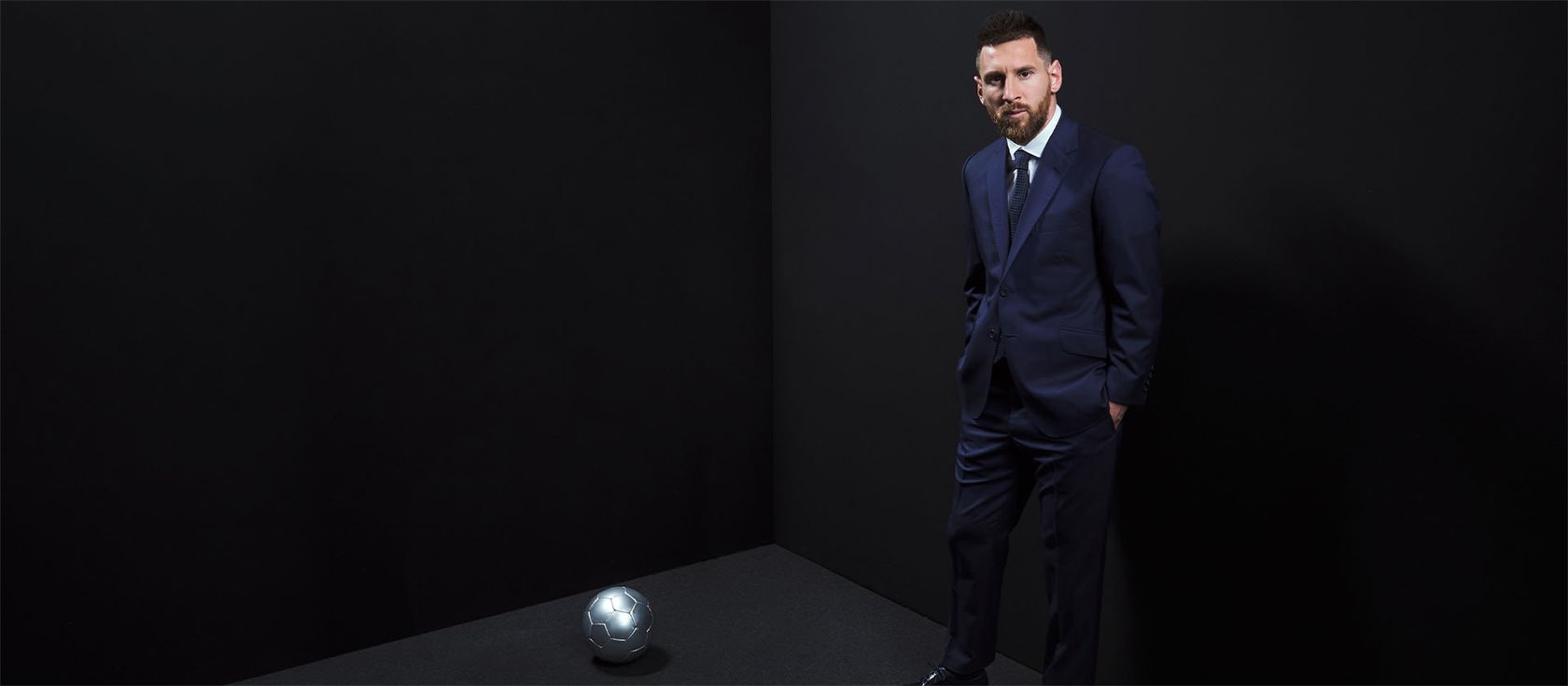 The growth stopped
At first, it was his father, Jorge Messi, who trained the little Lionel. He was the one who got him to understand the basic elements of the game. But as a six-year-old, he joined the club Newell's Old Boys, where he played for the next six years. His team became known as "The Machine of '87" and was almost unbeatable: they won almost everything. Not least because of the almost 500 goals Messi scored in those years.
"When you saw him, you thought, 'This kid can't play ball. He's a dwarf, he's too fragile, too small. But it was easy to realize that he was born differently, that he was a phenomenon, and that he was going to deliver something magnificent."
But at the age of 10, something changed. He was small for his age, and the doctors quickly found that he was severely lacking a growth hormone. It suddenly stopped his growth and became a serious threat to his dreams of becoming a professional footballer. It could, of course, be treated medically. But the cure was expensive and cost almost $1,000 per month. And when his parents' health insurance ran out after two years, he was condemned to a childhood where he was constantly below his peers' height.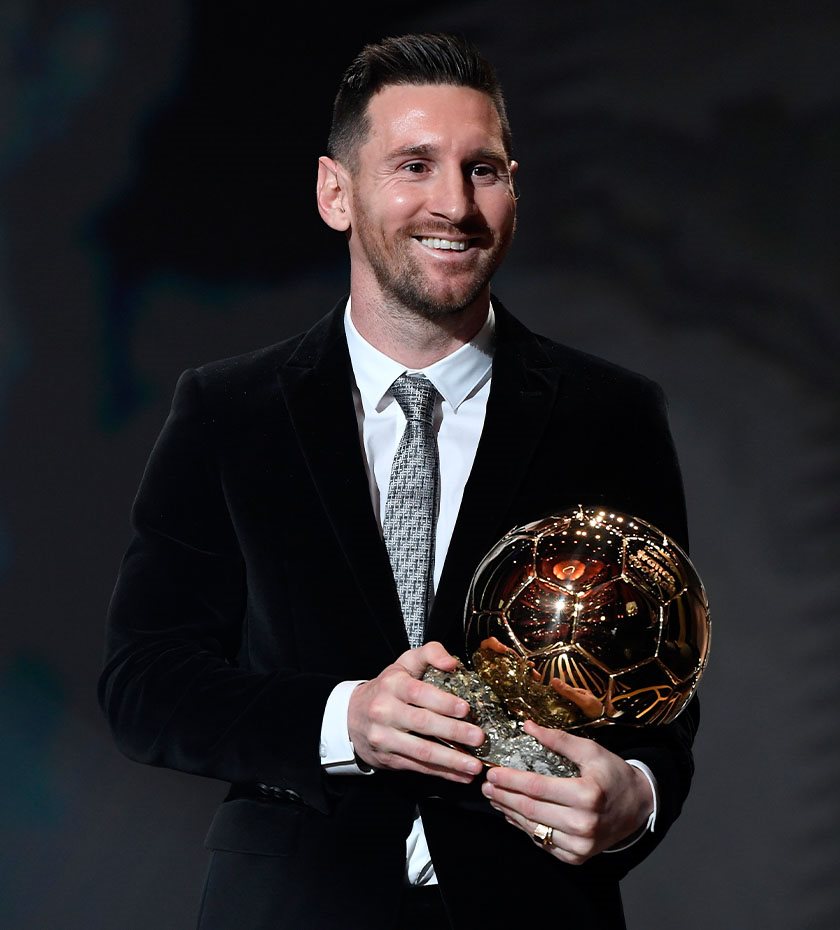 First contract written on a napkin
In the beginning, it was the Argentine powerhouse, River Plate, that put the brakes on. They were interested in signing a contract with Messi, but refused to pay for his treatments. Perhaps this played a role in the family's decision to emigrate to Spain in 2001. Already the year before, Messi's father had tried to arrange a trial agreement with the Catalan powerhouse, FC Barcelona. The team director, Charly Rexarch, was duly impressed with the young Argentine. But the board did not think it was appropriate to sign a contract with a 14-year-old teenager. Shortly before Christmas in 2000, the family issued an ultimatum: Sign a contract now, or we will find another club. Rexarch quickly scratched out terms and conditions on a napkin. It was Lionel Messi's first contract with FC Barcelona. And in February 2001, the family moved to the Catalan capital, to an apartment near Camp Nou.
Lionel Messi was enrolled in FC Barcelona's youth academy, La Masia, but in his first year, he only played a few games for the club's youth team: Los Infantiles. This was due to a transfer conflict with his old club, Newell's Old Boys, which meant that he could only play friendly matches and games in the local Catalan tournament.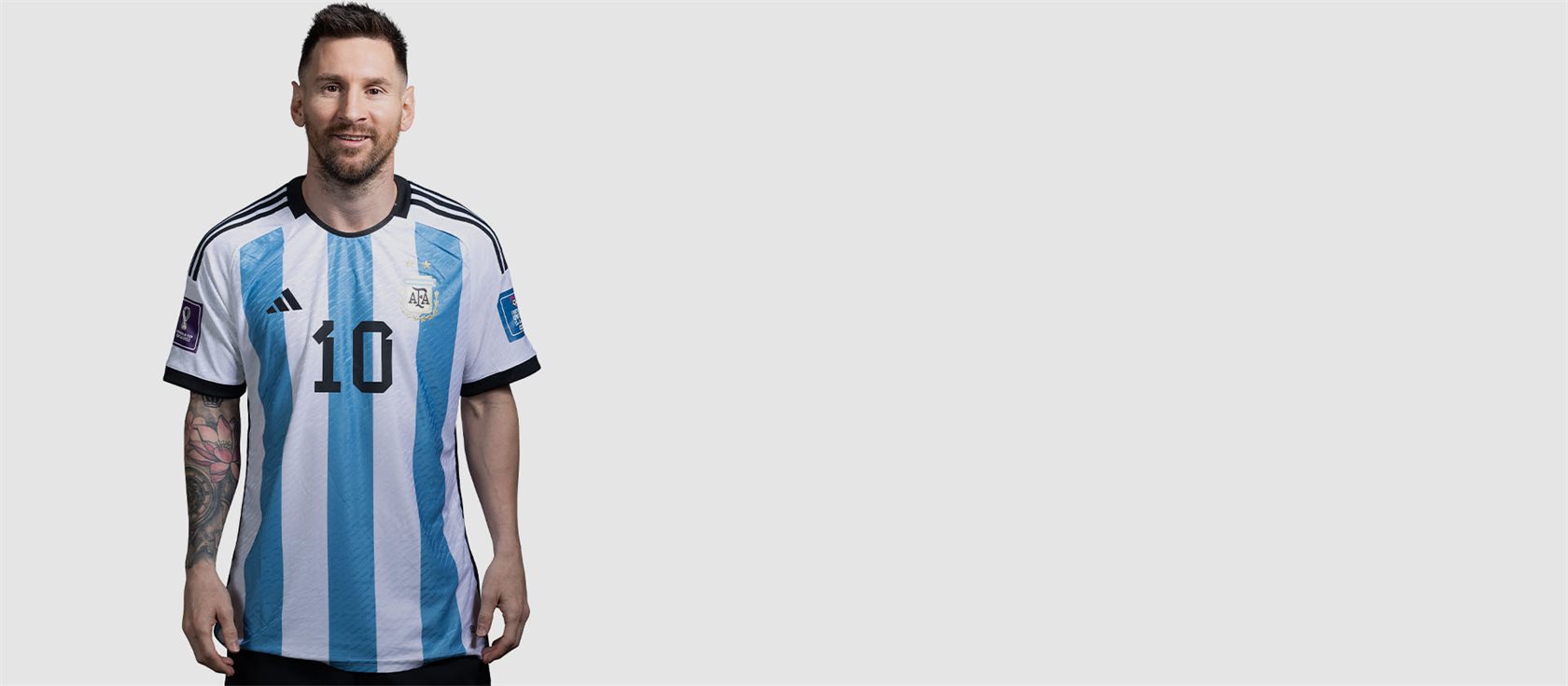 The introverted Messi
It was also a time where he had to fight to become an integrated part of the team. He was laconic and introverted. In fact, he was so quiet that many of his teammates thought he was mute. It did not help that his mother returned to Argentina with his brothers and younger sister while he was left alone in Barcelona with his father.
But after completing his growth hormone treatment at the age of 14, the transfer conflict with his old club was finally resolved. And in February 2002, he got his Spanish player's license. As a regular player, he now played all games and became a fixture of FC Barcelona's best youth team ever: 'The Baby Dream Team.'
Being able to play again may have been the reason why he opened up and created new friendships with great talents like Cesc Fàbregas and Gerard Piqué at the football academy. During his first full season, he scored 36 goals in 30 games and became the top scorer. One match in that year stands out vividly in his memory: the Copa Catalunya final against Espanyol, which has gone down in history as Partido de la Máscara - the Masks' Final. The week before the match, Messi had broken his cheekbone and was forced to play with a protective mask. But it bothered him so much that he ended up throwing it over the sideline and scored two goals in just 10 minutes before he was substituted.
Success in youth leagues also meant that other European powerhouses became aware of FC Barcelona's golden triangle. Messi and Fàbregas received offers from Arsenal, while Piqué signed a contract with Manchester United. Messi chose to stay, while Fàbregas got a contract with the London club.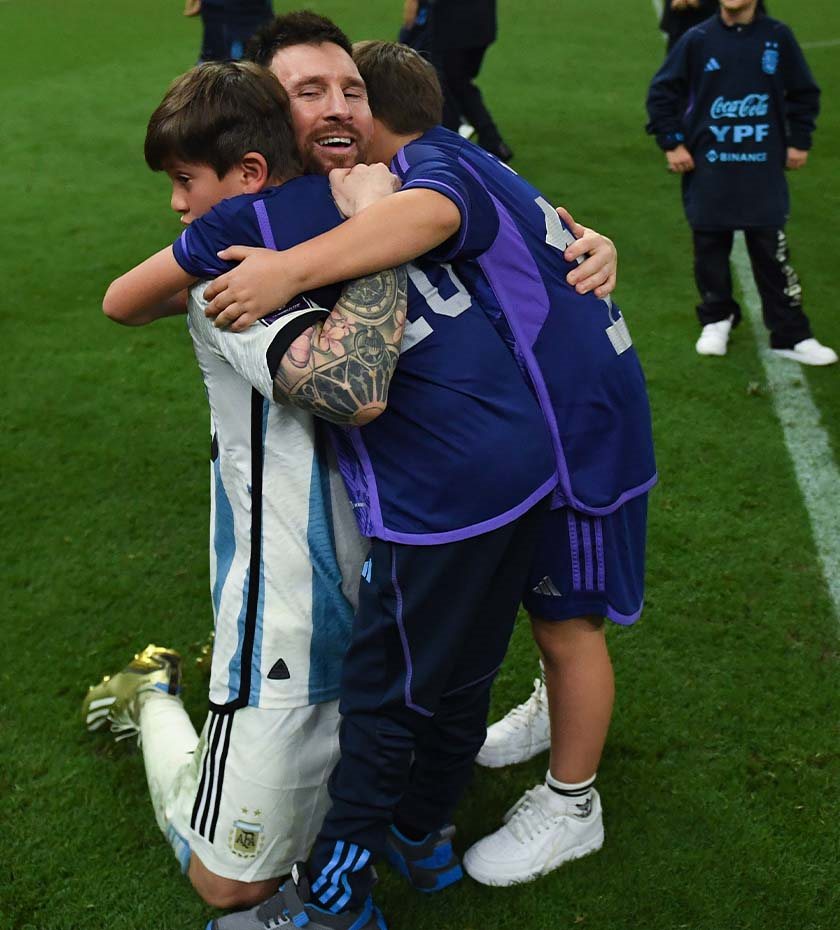 From Catalonia to Paris
The rest is history. His résumé is endless. At just 18 years old, he was the youngest player to score for FC Barcelona's first team in La Liga. He's the player who has scored the most goals in a calendar year, a record he set by scoring no fewer than 91 goals in 2012. While playing for FC Barcelona, he played a total of 520 games on the field and scored 474 goals before switching to Paris Saint-Germain in 2021. He has won a total of 10 Spanish championships. He has had a hand in the game the four times he and his teammates have been able to lift the Champions League trophy. And most recently, he received people's accolades when Argentina won the 2022 World Cup.
FC Barcelona has been deeply dependent on Messi's talent. And for Messi himself, it has been a safe and extremely lucrative acquaintance. But in 2021, it suddenly ended. His contract had expired, and he could freely switch to a club that could afford to pay his salary.
Despite the unrest surrounding FC Barcelona's president, Joan Laporta, who had indebted the club beyond reason, Lionel Messi probably also wanted to stay in Barcelona, where he had reaped so much success over the years – and where he lived well with his wife, Antonela Roccuzzo, and their three children. But new tighter rules from the Spanish Football Federation set a limit on FC Barcelona's debt – and not least, on the size of the salaries the club could pay. If Messi's contract had been extended on the same terms, the club's total salary expenses would have risen to 110% of revenues.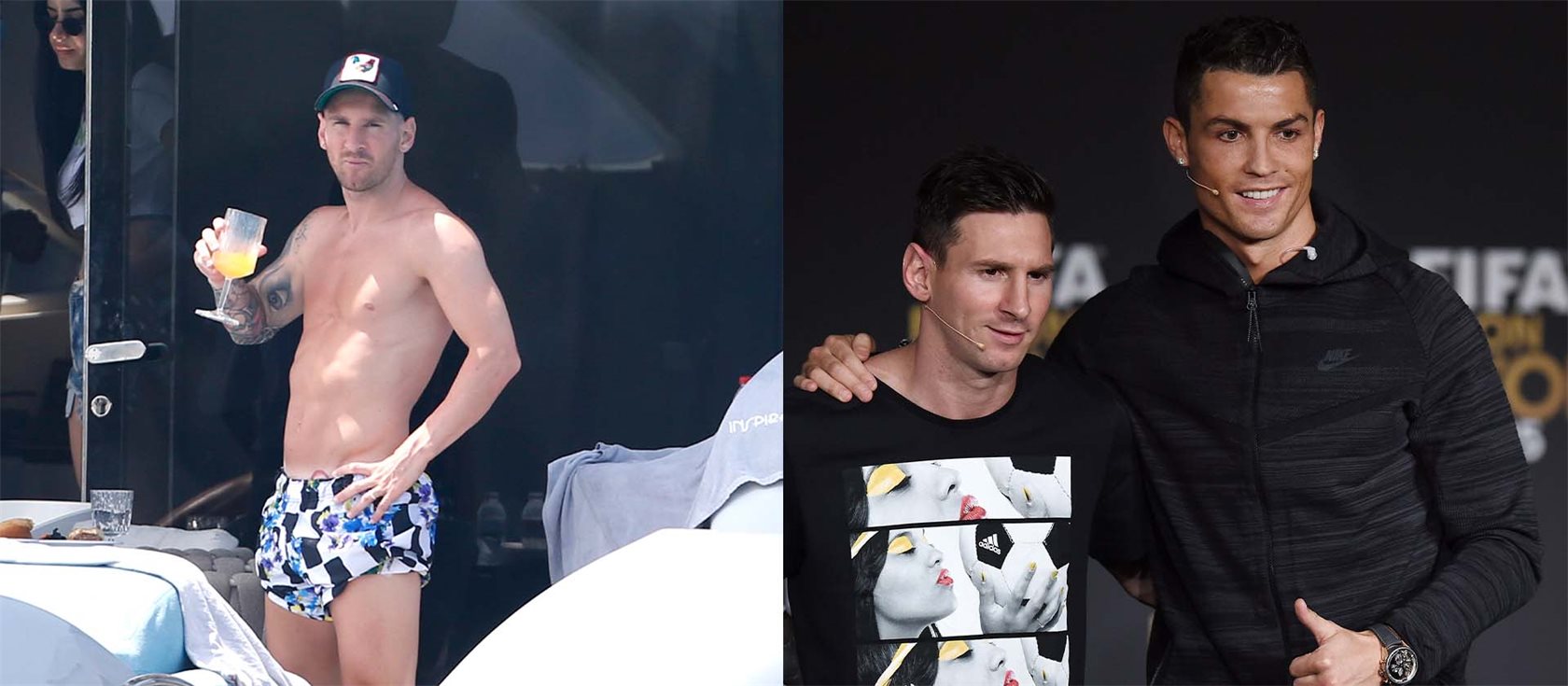 As the president put it, "If we had written a new contract with Lionel Messi, we would have had to accept a loan equivalent to the club's total TV revenue for 50 years!"
So in July 2021, it was over. In a tearful press conference, Messi announced that he would not be in FC Barcelona's starting lineup for the upcoming season. The future lay in Paris. With a gold-plated contract that, according to Forbes' financial magazine in 2021-2022, gave him a total income of a staggering 920 million DKK. The 531 million DKK is direct salary and bonuses from Paris Saint-Germain, while the remaining 389 million DKK comes from sponsorships, advertising, and branding.
With a huge fortune and many homes in Paris, Barcelona, and his home country of Argentina, he and his family are secured for life. But despite enormous sporting success crowned with the 2022 World Cup trophy, it has not been a journey without scratches. In 2016, both Messi and his father were sentenced to a suspended 21-month prison sentence for tax fraud. Lionel claimed he was unaware of the various transactions that had moved parts of his sponsorship income to tax havens in Uruguay and Belize. But even a prison sentence could not remove support from his fans. And after the World Cup triumph, Messi – at least in his home country of Argentina – can walk on water.
There have been many significant people in his life. His wife, Antonela, whom he has known since childhood. Various coaches, his father, mother, and siblings. But perhaps there is still one person who has meant a little more: his grandmother, Celia. In his childhood years, it was she who accompanied him to training and matches. And he was strongly affected when she died when he was 11 years old. Throughout his career, he has celebrated his goals after each score by looking up and pointing towards the sky as a tribute to his grandmother.
Although his contract with Paris Saint-Germain expires next year, Messi's performance during the World Cup tournament suggests that he is not yet ready to retire from football. So hopefully football fans around the world can enjoy his eye for the game and new wonderful goals in the years to come. And not least his gaze towards the sky in honor of his grandmother.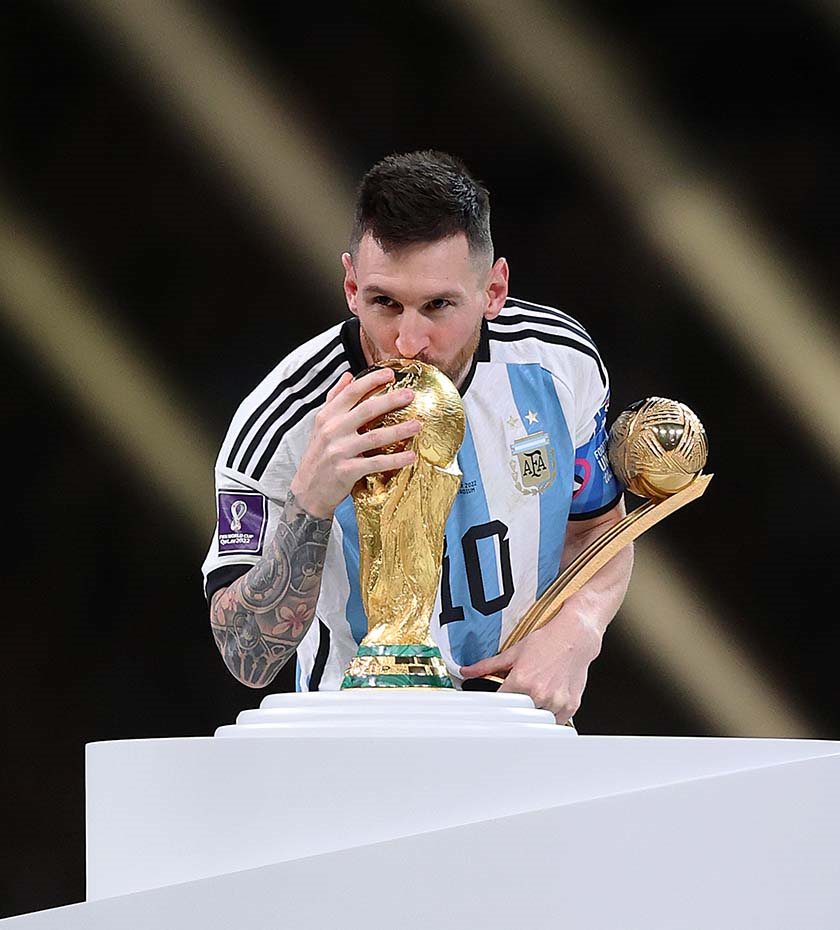 >FACTS:
Full name: Lionel Andrés Messi
Nationality: Argentina
Nickname: Leo or la Pulga
Birthday: June 24, 1987
Height-weight: 170 cm tall - weighs 72 kg
First game: 1992 as a five-year-old for Grandoli, Argentina
First contract: at 13 years old with FC Barcelona
Professional debut: November 16, 2003 in a friendly match against FC Porto
Number of games: 778 for FC Barcelona. 672 goals
Current club: Paris st. Germain
Number of games: 61 since 2021. 27 goals
Income: Estimated salary 2021-22: 920 million DKK.
Championships: 10 Spanish championships and four Champions League trophies